30 Days Photo Challenge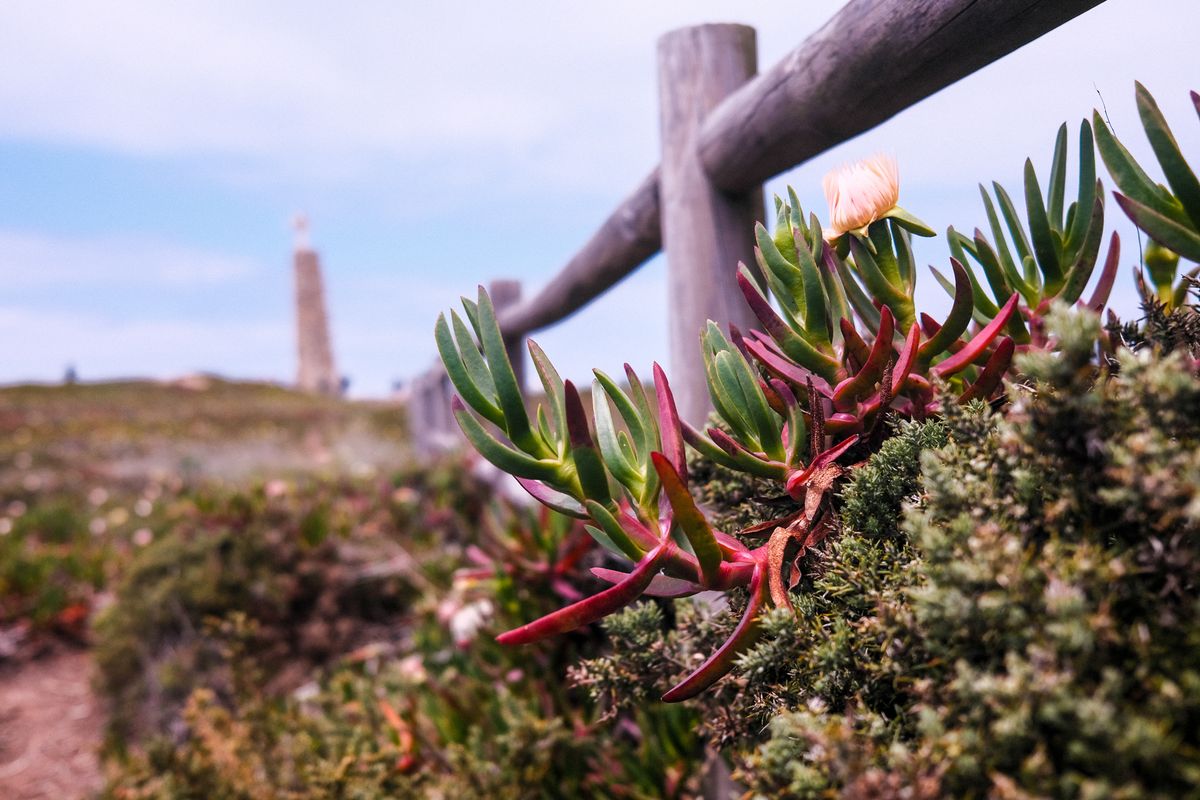 It's May 2022, and I'm excited to kick off my personal challenge: 30 days of photography, in which I'm committed to shoot and publish one photo each day.
I tried something like this about 5 years back, but it was a one year challenge and I only managed to keep consistent for the first 11 days or so. Definitely not anywhere near 365 days.
So this time, I'm going to go at it with a smaller challenge, which is 30 days of photos.
Starting today.
Rules are simple:
shoot at least one photo each day with a photo camera (mobile phone does not count).
publish the photo on this page and social media (I'm going to publish it on my @dlucian Instagram account). Add the #30daychallenge hash tag.
optionally add the story behind the photo.
This post will be updated with the new photos as I go through with it.
Day 1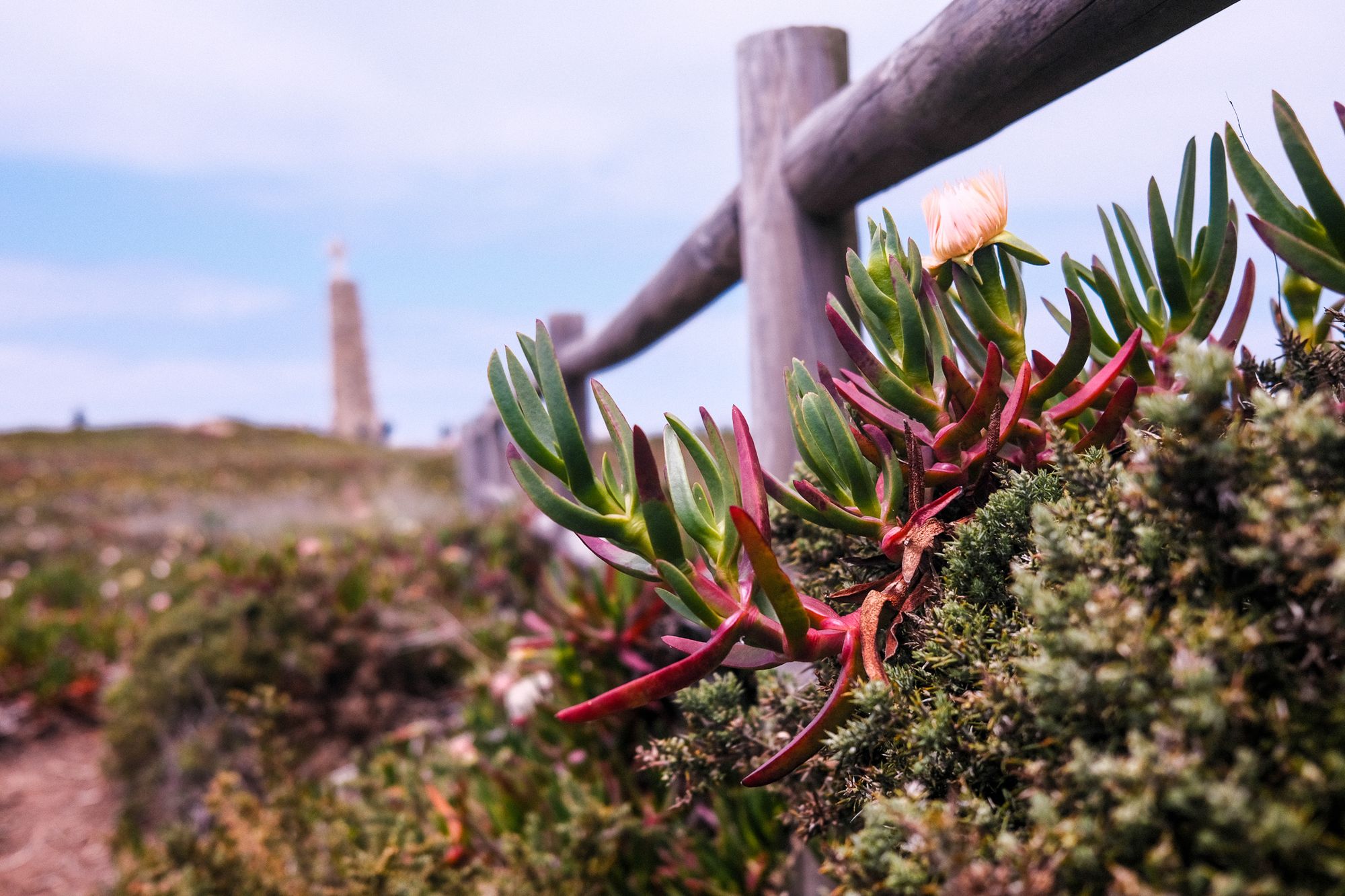 Carpobrotus edulis is an invasive plant found on most of the peaks of Portugal's shoreline, also known as ice plant, hottentot-fig, highway figor sea fig. Wikipedia says that its leaves are edible, but I didn't try it. Yet :)
Took this photo on a short visit to Cabo da Roca, the most western point of land in the continental Europe.
Short, because usually there a blazing strong wind there, which makes visits rather short before the cold wind gets under your clothes and drives you away.
Shot in JPEG with Fujifilm X100V, 23mm f/2.8 1/500sec ISO 640.
Day 2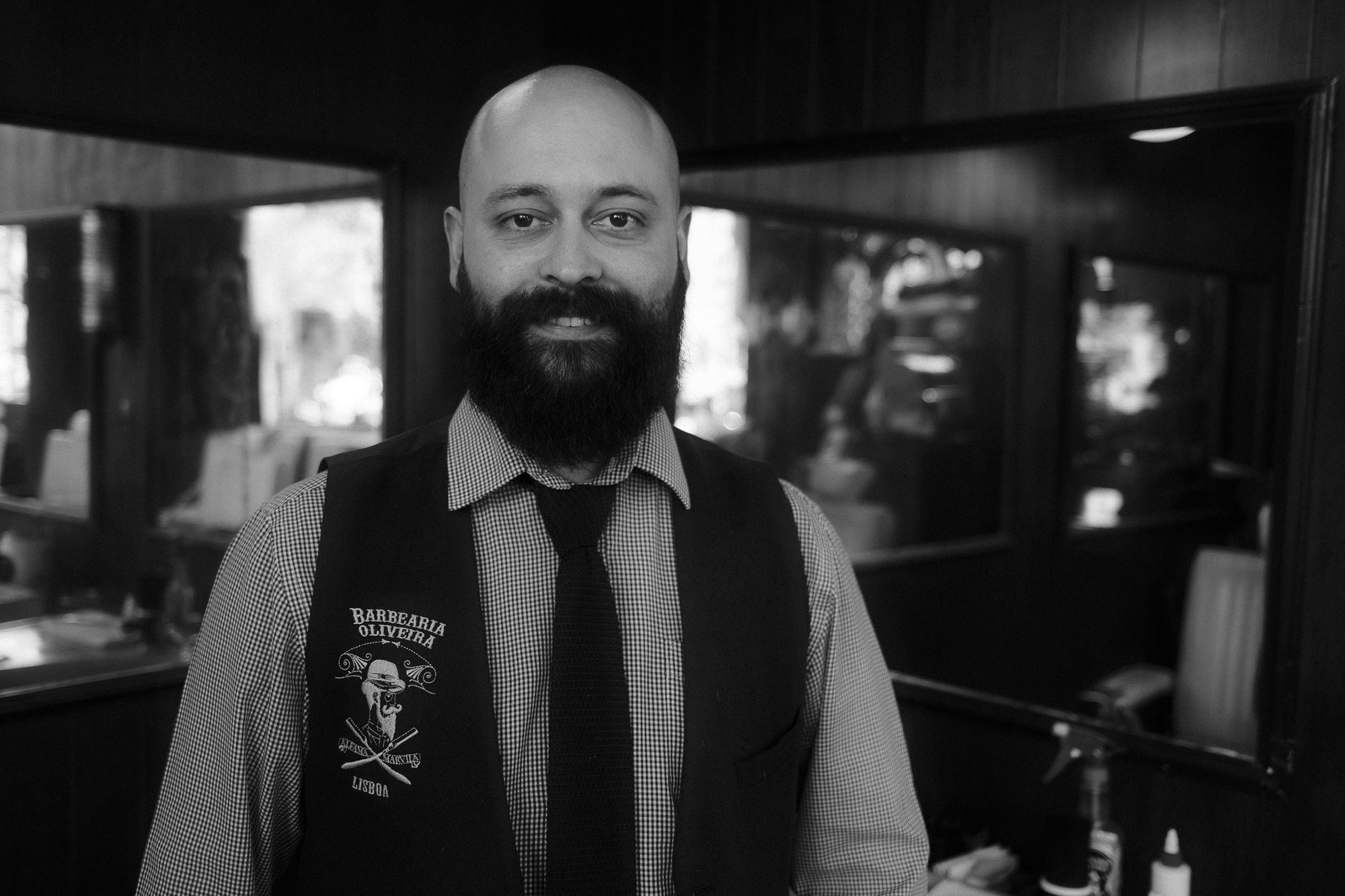 Pedro is the barber that made me look better today.
His tattoo certifies that he is very passionate about his job. I felt well taken care of and I totally recommend going to Barbearia Oliveira right next to the Estrela park.
There are three barbers there and I have been to each and every one, so no matter who you're going to get, you're very likely to be in good hands.
Shot in JPEG with Fujifilm X100V, 23mm f/2.0 1/400sec ISO 640.
Day 3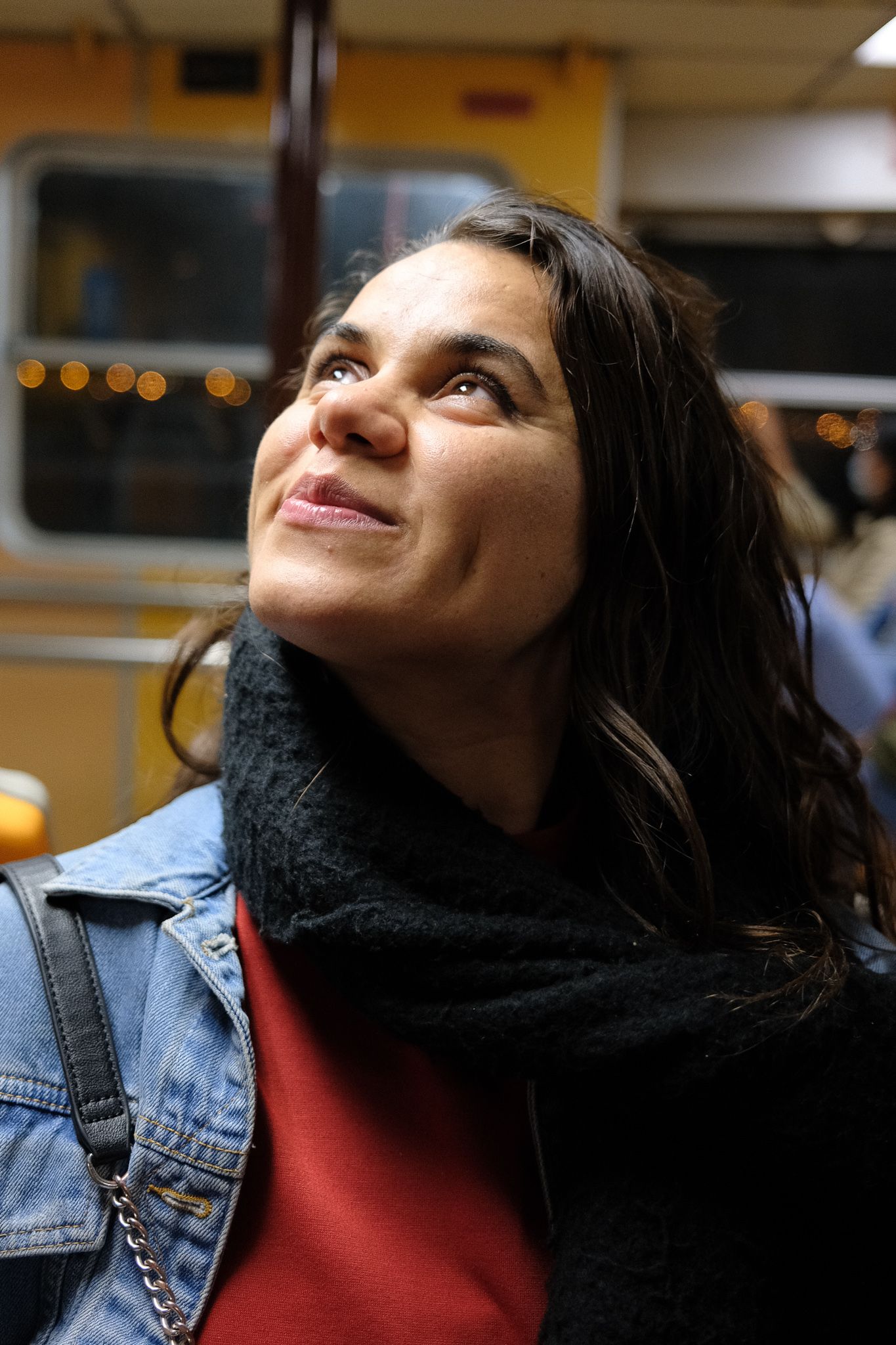 I've met @valstokey two years ago just after New Year's day.
Valentina is a beautiful soul, passionate about life, striving to make a difference and spreading love wherever she goes.
You can usually find her in Lisbon, smiling and having fun, meeting new people and chasing new and exquisite experiences.
This photo was shot on the ferry boat from Cacilhas to Cais do Sodré, after a seafood feast at Solar Beirao, the best place to go wild on seafood of all kinds.
#fujifilm #x100v #fujijpeg #fujicolor #nofilter #lisbon #30daychallenge
Day 4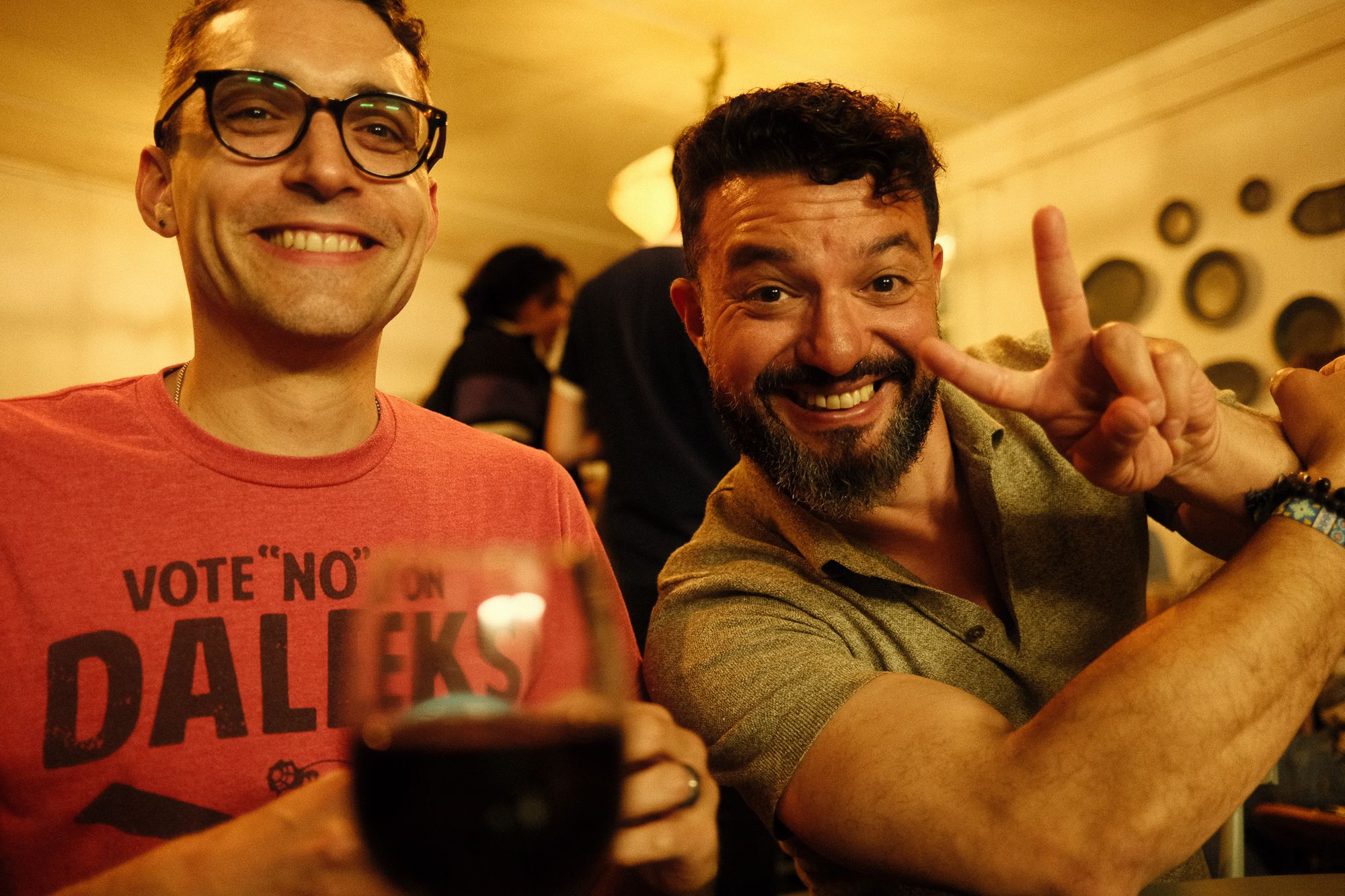 The board-games night is happening every two weeks on Wednesdays in Lisbon, and this one was particularly fun because there were large groups of people playing fun games like Shit Happens, Skull, Codenames and Secret Hitler.
I was aiming to stage a photo for this day, but the instant shots I took from the game were far better.
Casa Cabana was kind enough to host us so we had a wonderful experience.
Day 5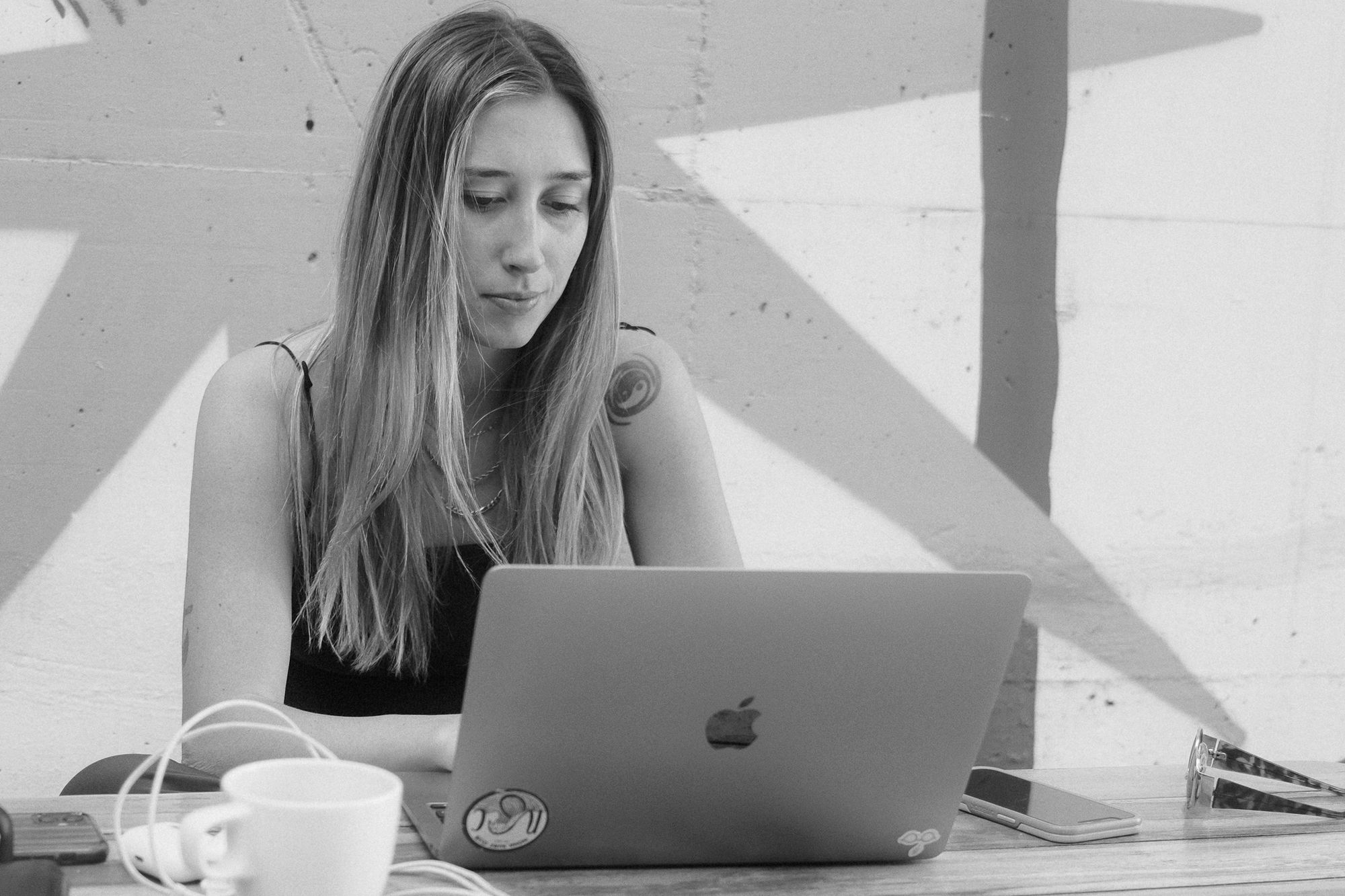 This was at Selina Secret Garden, during a Nomadic Coffee break. I find it very uncomfortable to ask strangers if I could photograph them, but this time I managed to do it. There was a young couple working with their laptops outside and I asked them if it would be ok to take a shot of them working.
This is one nice aspect of working from Selina's, the fact that there are several big tables just outside the coworking area where you can enjoy fresh air, under the blue sky, without staying in direct sunlight.
Day 6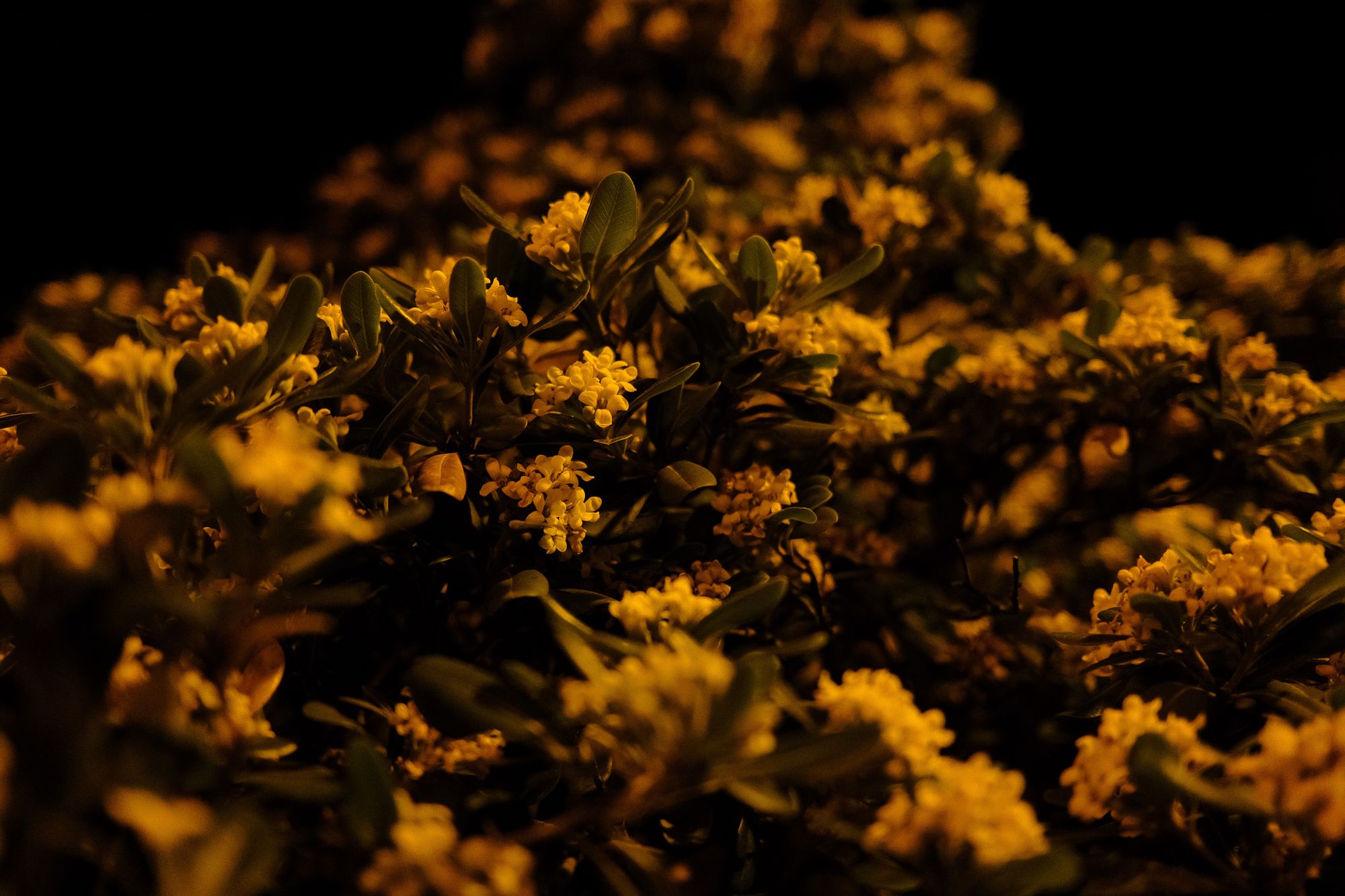 Would you want to preview the day you'll die?
Tonight I went to a home dinner party organized by my dear friend Therese, who is one of the warmest, kindest person I know. Besides her incredible tasty cooking, she mentioned that she likes to find out more about her friends that are coming for dinner, so we played a card game with interesting questions.
The card I pulled had this one:
"If you could preview one day in your future, what day would you choose?"
Guests mentioned moments in the future such as "Myself in 30-40 years in the future", "How much is Bitcoin worth in X years", "November 4th", "The day I'm drinking wine on my porch with my friends overlooking the ocean", but it occurred to me even before reading the question to the guests that I would definitely want to preview the day I'll die.
I'm not very much interested in how I die, but I'm interested in how will that day go. Because seeing my future self on that day would give me a good indication of how well I've lived my life.
That's all the information I need.
After all, I am more and more convinced that we, humans, are here, living our lives, to experience life as a human being.
And I want to experience it thoroughly. Every. Single. Day.
Day 7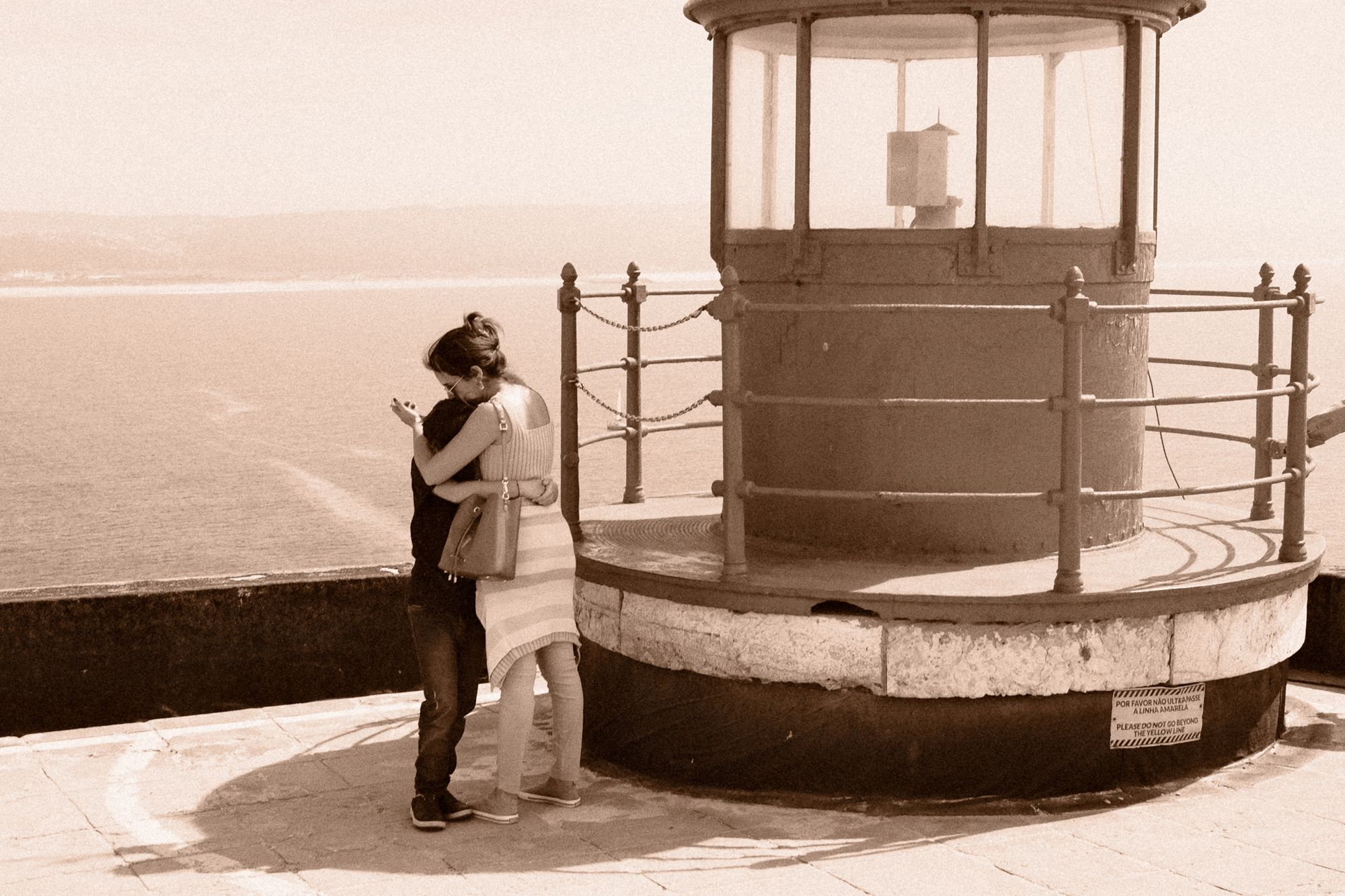 Is love a force of nature?
When we hear about the forces of nature, it's either storms, quakes and volcanos, or it's the 4 scientific forces of nature: Gravity, The weak force, Electromagnetism, and The strong force.
But what about love? A mother's love for her child. A lioness's love for her cub. A man's love for her spouse. A teen's love for his father. For our friends. For our relatives.
Since all of us living creatures are part of nature, it feels to me like love (and also hate and all the others) should be called forces of nature. These powerful emotions have the strength to move mountains, build cities, and even wipe out civilization.
So, again, is love a force of nature?
I was on top of the Farol da Nazaré wanting to take a picture of the lighthouse. When I see this child running up to her mother and hugging her. She was busy with her phone just moments before, but she just seemed to melt when hugged tight by (what it seemed to be) her child.
Day 8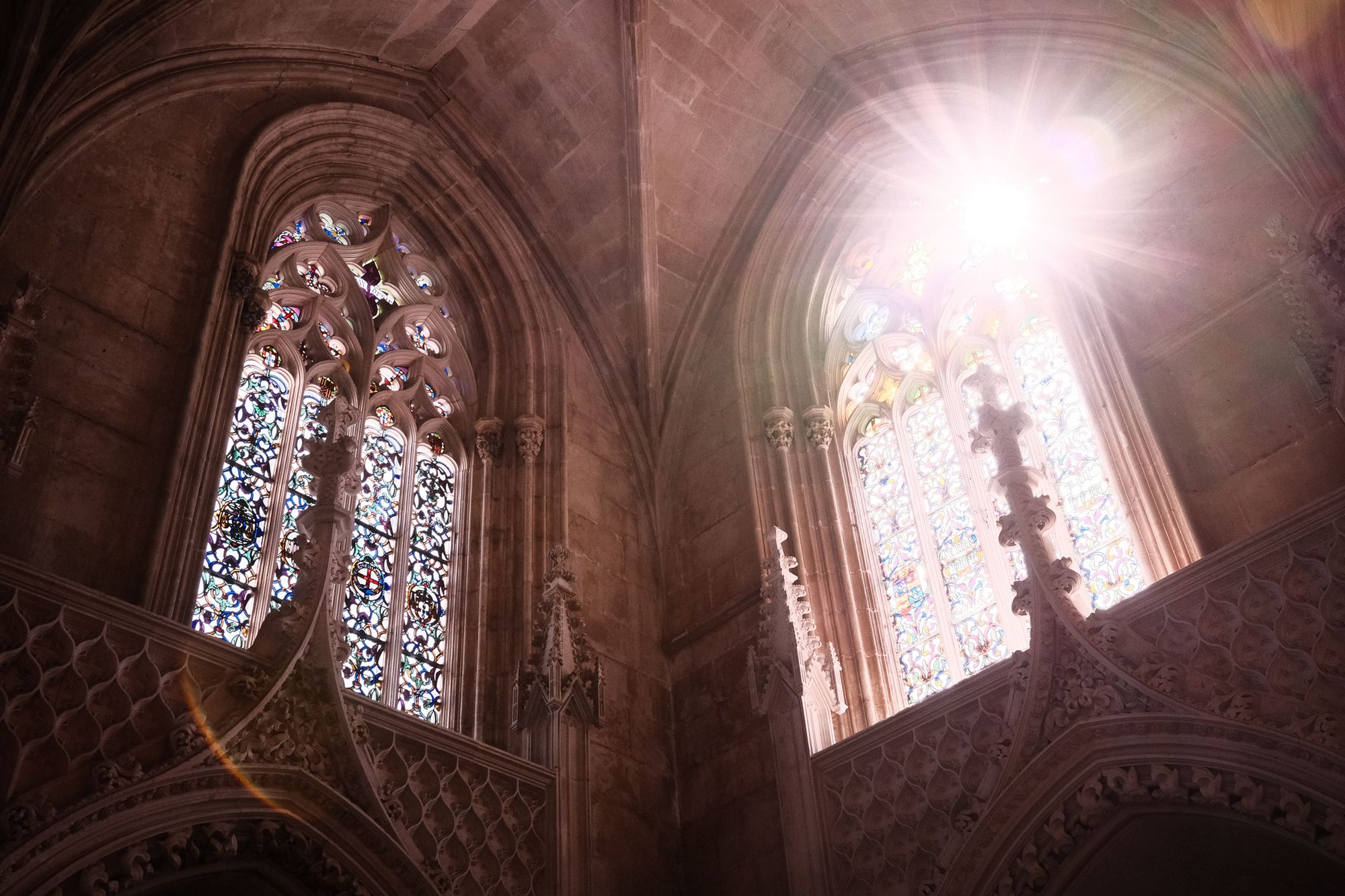 I explored a very interesting monastery today in Batalha, called Monastery of Santa Maria da Vitória.
It resembles the Notre-Dame de Paris, yet it's not very touristy and you can actually walk around pretty much everywhere. Tickets are not expensive and there is plenty to visit, including a small museum.
The colored glass windows make interesting lights inside its walls, which is why I felt like shooting the sun coming through the window.
Shot with Fujifilm X100V using the Retro Gold film simulationwhich made this happen.
It's an unedited JPEG straight out of the camera, 23mm (35mm equivalent), f/4.0, 1/450sec, ISO 2000.
I just loved the sunrays and the details of the window, so I decided out of the 245 photos I shot today, this is the "foto of the day".
Day 9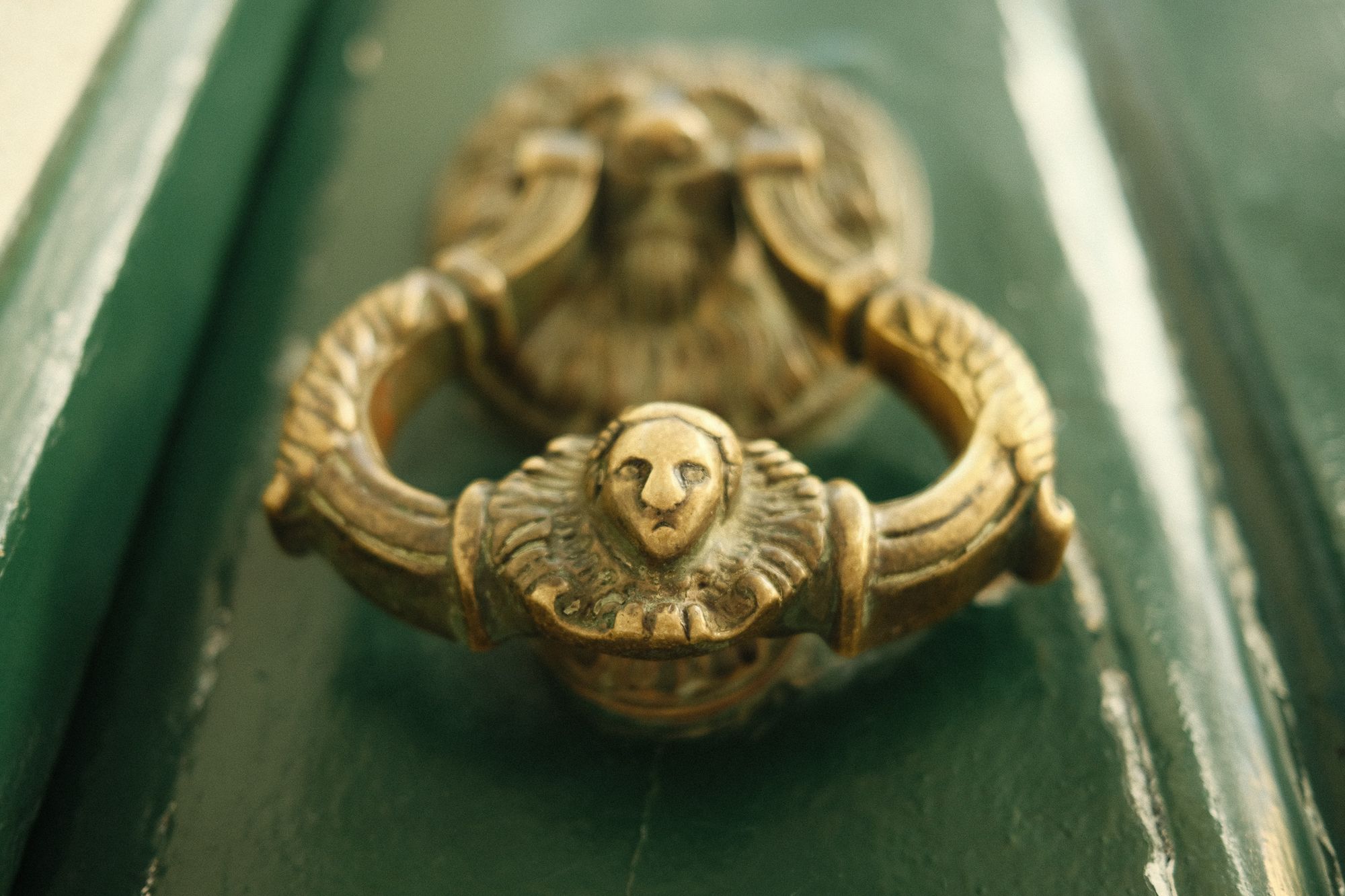 There's something from yesterday's visit to Santa Maria da Vitória monastery that made me more attentive to details. We easily walk by something that has a big level of details, just because we're used to the street we're on or we're all caught up in our thoughts. Or we're just thinking about the next task or the last one.
Attention to detail opens up a whole new world just around the corner. There's a history for every single piece of material that exists on this planet. And sometimes, it's worth slowing down and admiring the details.
Remember the saying "The devil's in the detail"? It's the details that make something either simple or rather complicated (and prone to problems).
I took this shot walking through the narrow streets of Santa Catarina, Lisbon. Portuguese people treasure traditions, starting from architecture, and door knockers are no exception. Even though the history of door knockers goes back thousands of years, all the way to ancient Greece, they still have plenty of door knockers around the old city of Lisbon.
Fujifilm X100V, ISO 640, 23mm, f/2.0, 1/180sec. Pure JPEG, zero editing.
Day 10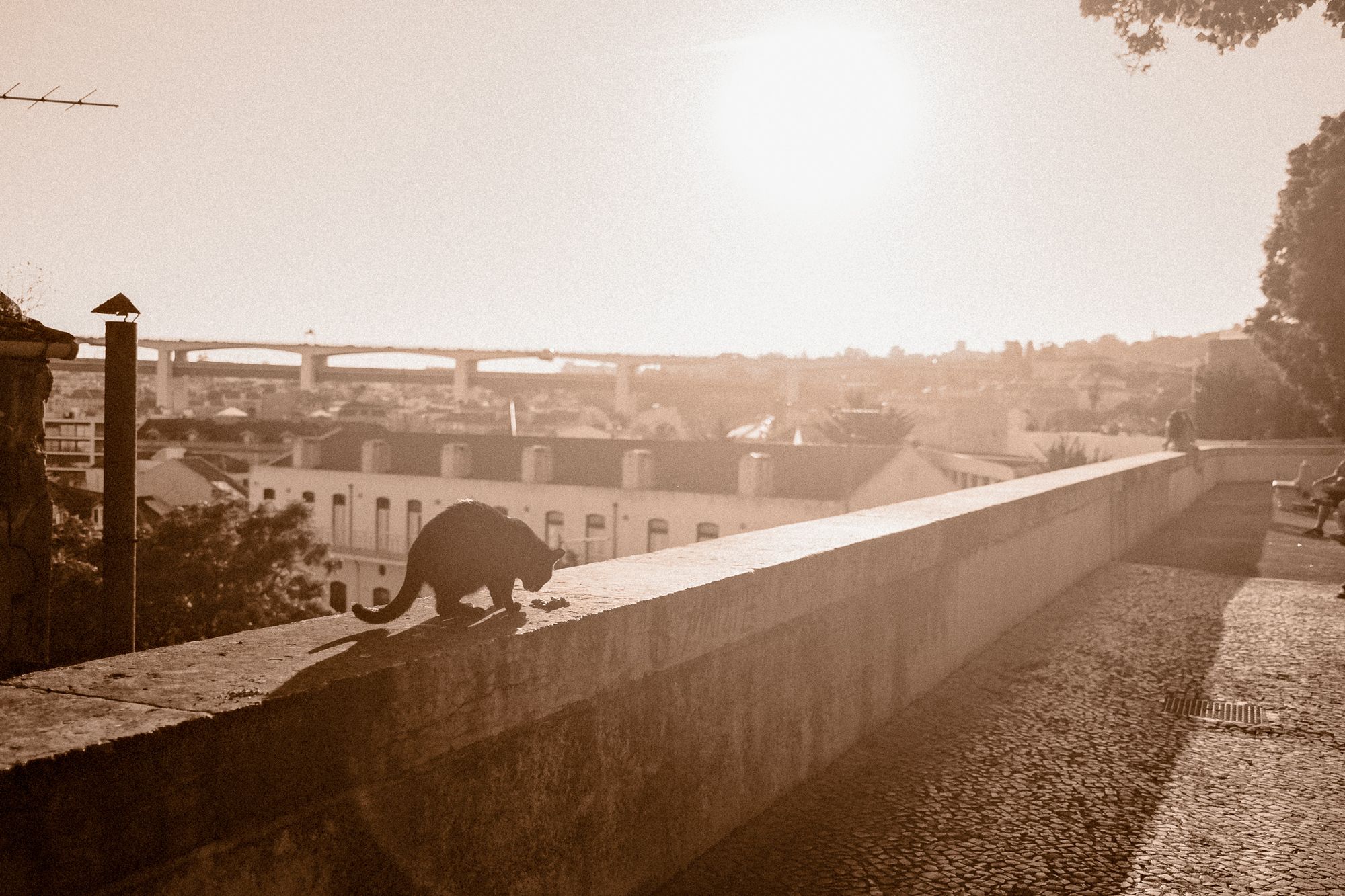 I did a good deed today.
Well, at least one: I made a cat happy.
Coming back from visiting the Benfica stadium, I was at the Miradouro do Largo das Necessidades viewpoint, when I saw a black cat on the ledge.
Of course, I walked straight towards her but she wasn't too friendly so she ran away.
But then I was reminded that I keep canned cat food and dog food in the car. For hungry cats and dogs along the road.
No time to waste!
I went straight to the car, got the can, came back, showed it to the cat, and immediately piqued her interest.
Yay!
I opened it and… well… as seen in the photo, she wasn't so scaredy-cat anymore. She seems quite hungry.
I made a (hungry) cat happy!
That made my day even better.
So remember, be kind to animals!
Day 11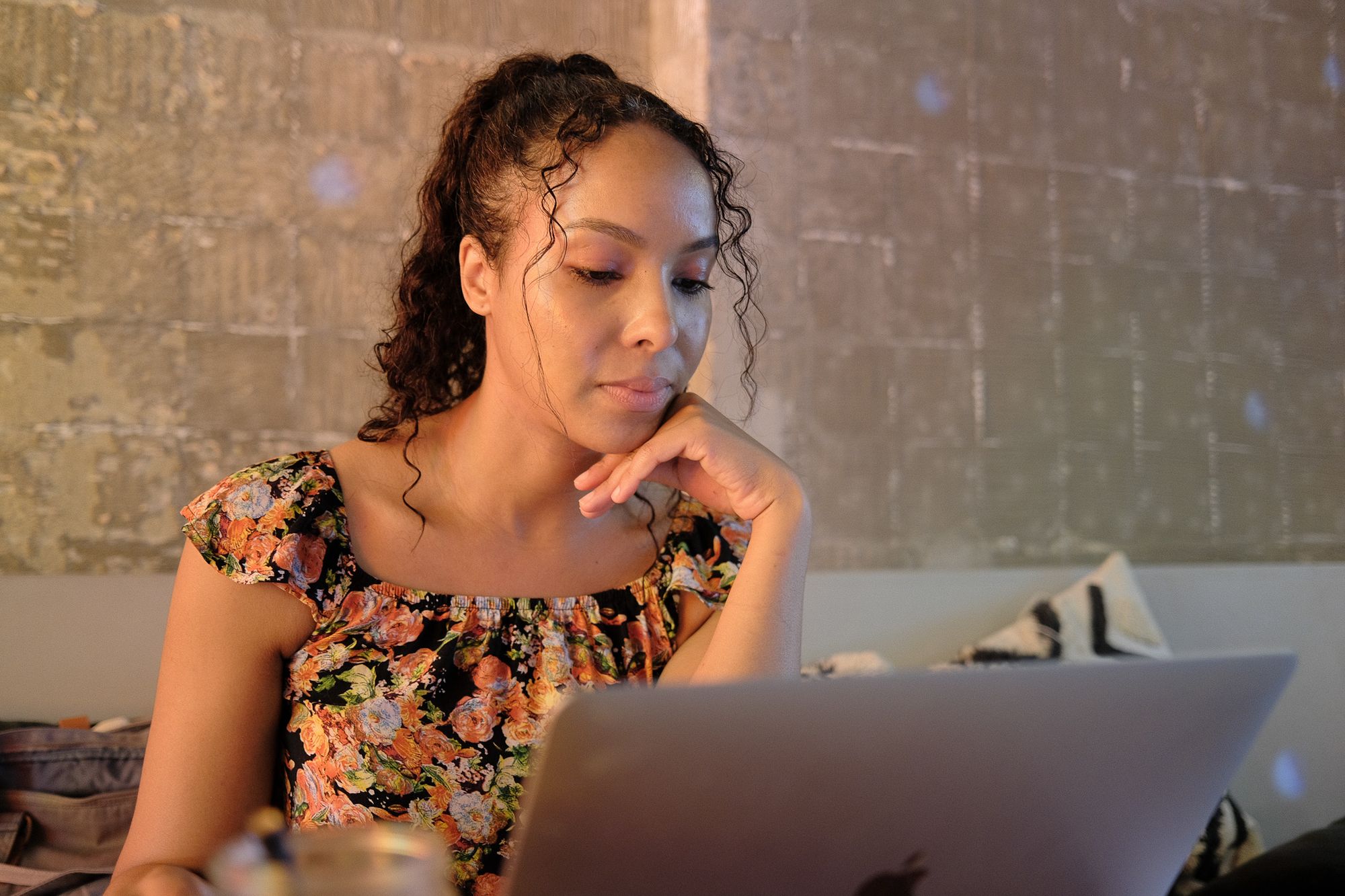 This one is a longer story, read about the fear of being rejected and other demons.
Day 12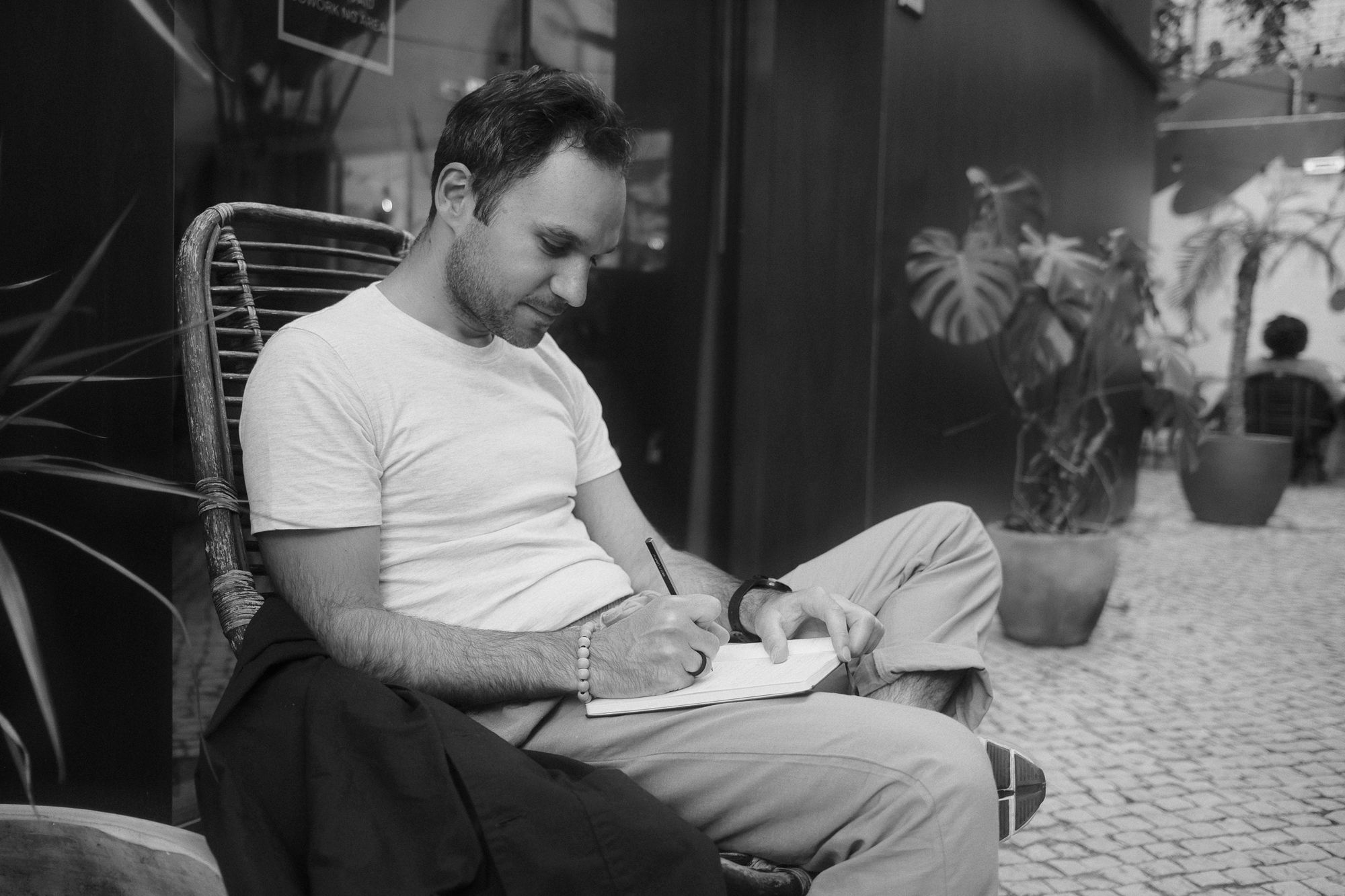 In a short work break today, I saw this interesting man writing something in what appeared to be his notebook. I can relate to that as I've been journaling for more than 20 years. The pleasure and benefits of putting words on paper have been thoroughly studied and confirmed.
So I took a moment to ask him if I could take a picture of him writing, and I learned a few things about the interesting man.
His name is Matej, and he's a creative human being from Macedonia. He is visiting Lisbon, and his passion is… well… writing words on paper. It was a pleasure to get acquainted with Matej, and I realized again and again how Lisbon is the perfect place to meet wonderful people whom you can have proper talks with.
If you're into creative work, check out his work on m-is.me or follow him on Insta @matejpetrov.
Day 13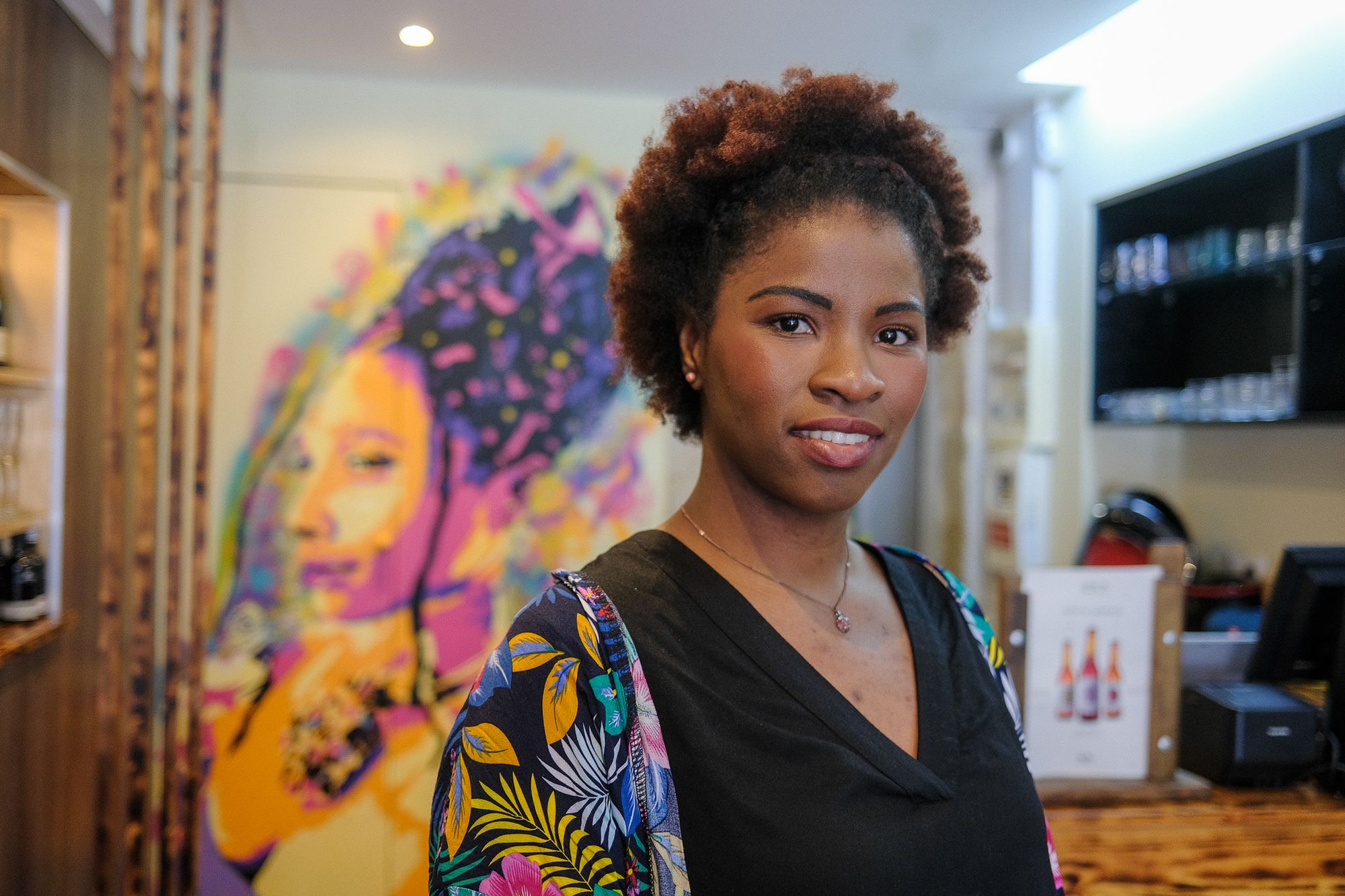 I passed by an old place yesterday, which I thought was closed a long time ago. I remembered Sofia was the one who served me a very delicious fish dish, and I came back a few times before lockdown came and everything closed.
But, surprisingly, I saw Sofia inside, and when I looked better, it was not only open but rebranded into Sofia's Place. Sofia is the most friendly waiter/restaurant owner I have ever met. She'll be happy to tell you all about the food, the story, and the experience of dining in a cozy place such as hers. Sofia has a very interesting story, I won't go into details here, but it's worth asking about it if you go there. She's definitely a clear case of how ambition and perseverance made her dream of owning and running her very own cozy restaurant come true.
So today I went there for lunch with @dylanmouthaan, and since Dylan was running a few minutes late, I took the opportunity to ask Renica, the waiter on duty, if I can take a picture of her, for my 30-day photo challenge.
Talking to Renica, she felt familiar, but couldn't quite pinpoint if and where I met her before, so I went home. My surprise was that I discovered I was on a photo walk last year and Renica was one of the models that posed for the photographers on the walk.
How small a city is this!?
She's clearly a great-looking model, expressive and worth photographing.
So if you're in the São Bento neighborhood, definitely go and have lunch or dinner at Sofia's Place, you'll most likely run into Sofia, Renica, or both.
Day 14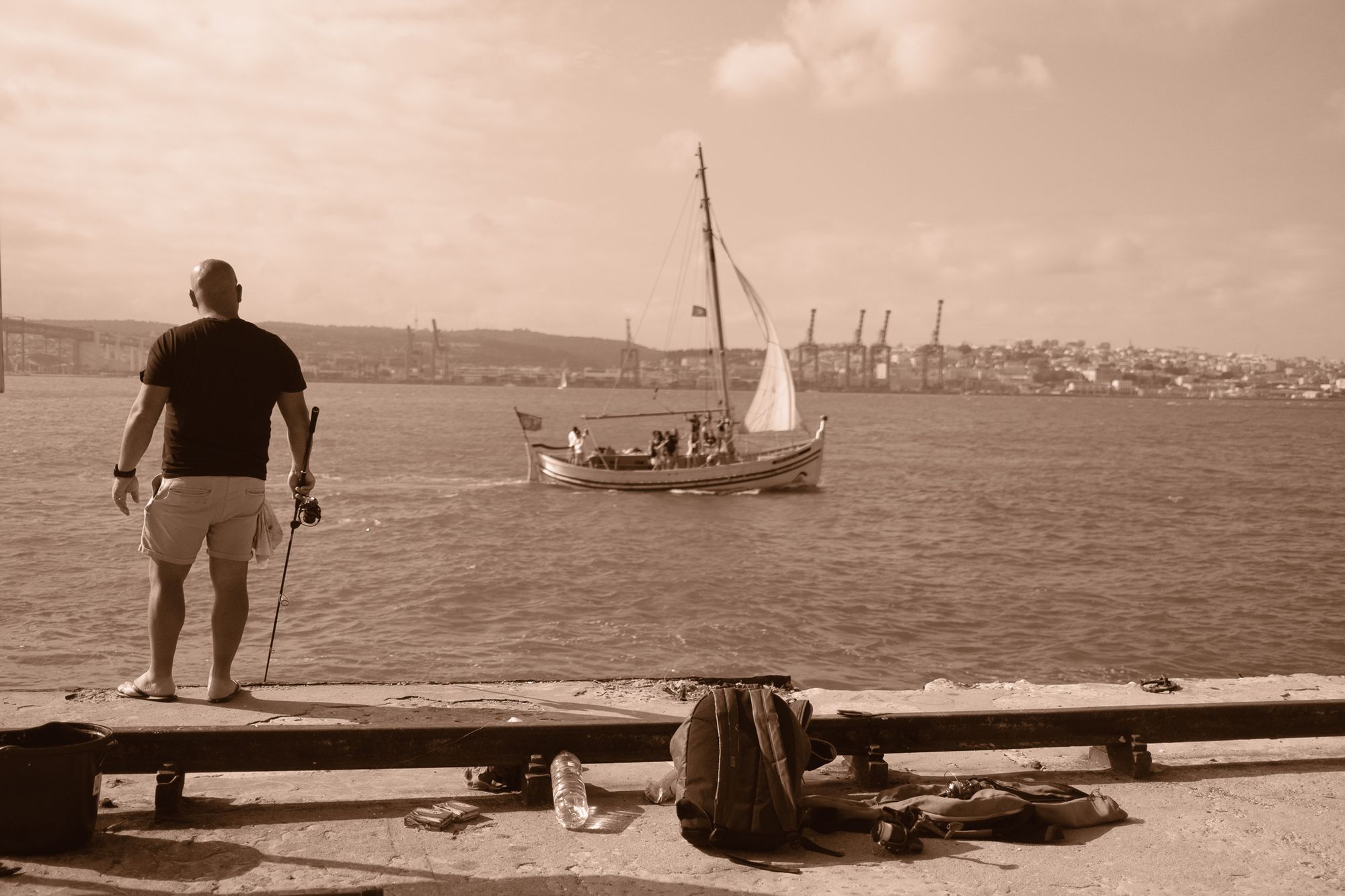 I was on a photo walk today, organized by Naoh. There were so many good photos that I shot, which made the decision of which is going to be the photo of the day much harder.
I chose this one because the people on the boat were cheering and dancing like there was no tomorrow, and the fisherman was looking at them completely not interested. It was a special contract between people who are making the best of their vacation and people that are probably fishing in order to have what to eat today.
Our world is full of contrasts, and even though life isn't fair. This is beautiful and ugly at the same time. It's ugly because life should be fair and good things should come to good people. And it's beautiful because it creates diversity. In my opinion, diversity is one of the key points that makes life worth living.
Day 15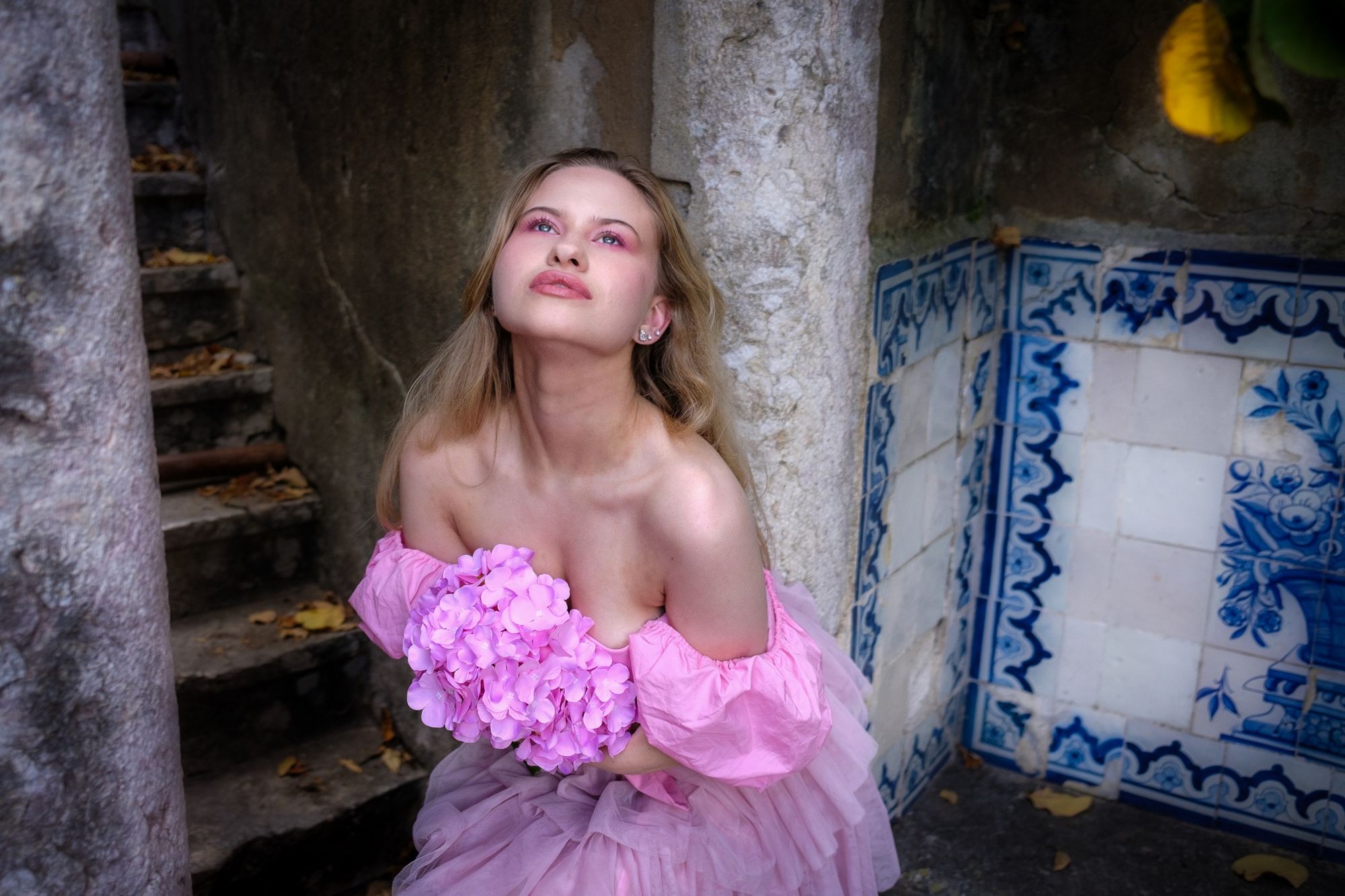 Today I was honored to participate in one of Ana Luar's photo events called Sweet Color. It was organized by her, at a farm nearby Lisbon, with three models and several photographers.
The scenes were quite complex, and the models were not only very beautiful, but also professional and expressive. For this one I brought both my Nikon D4s and my Fujifilm X100V, and I am very excited to edit all the photos and show them to you.
Fujifilm X100V, 23mm, f/2.2, 1/1400sec, ISO 640,
Event: Sweet Color
Photo: Lucian Daniliuc
Production: Ana Luar
Makeup: Beatriz Vaz
Day 16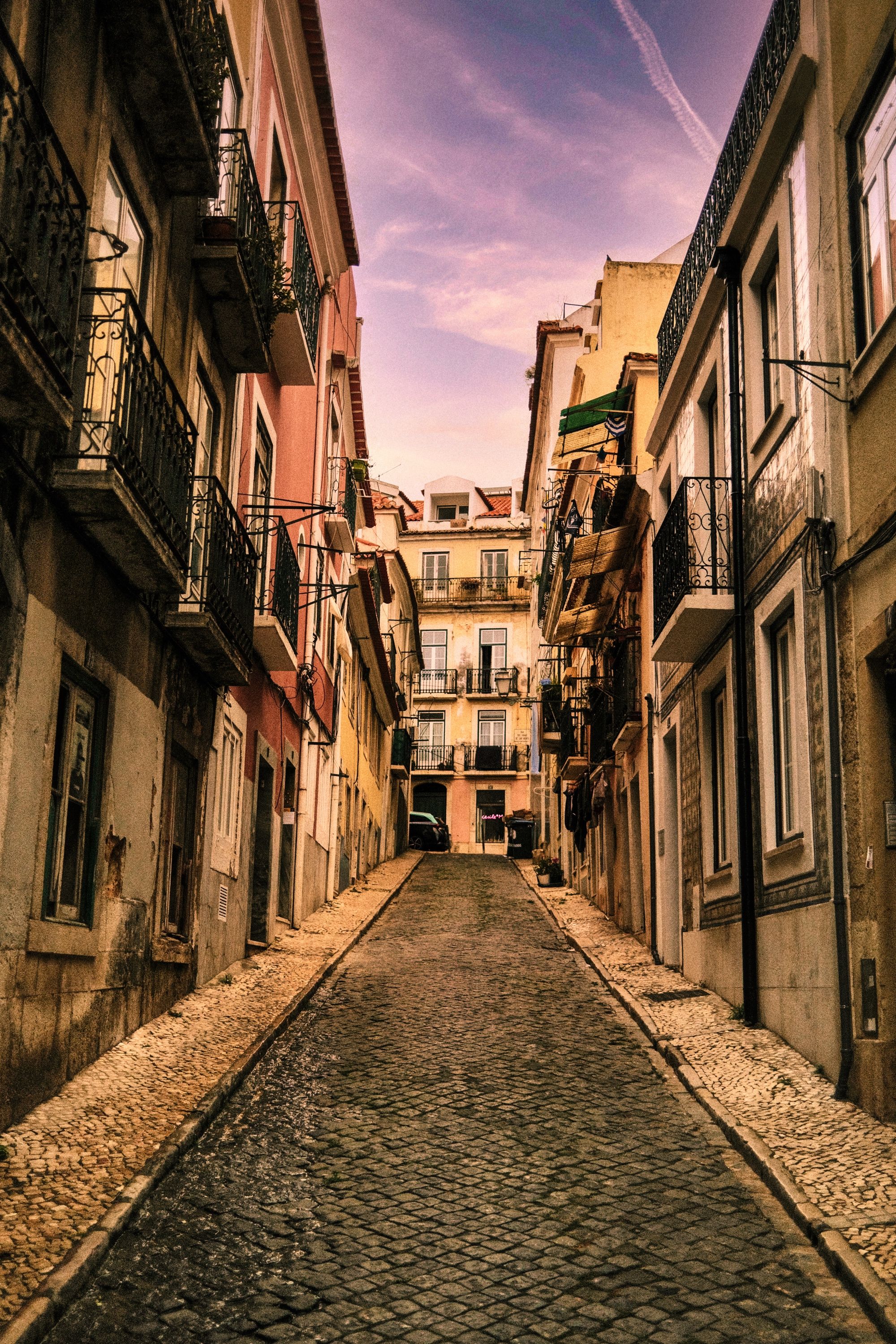 It feels like I dropped the ball today on my photo challenge. I was so caught up in all the new things that I started today that I only did a few photos on my way home. I started an intensive Portuguese course, which is 3 hours a day, every day, and a 30-day Mind Valley course (they call it quests). I know I can handle everything but that leaves less room for my artistic hobbies.
This was a good opportunity to try out my editing skills, so I used Luminar Neo to relight this scene and make it more warm and dramatic. Around Lisbon's city center, all the roads are pretty much like this: narrow and hilly. Which makes each walk a nice one, as I'm still mesmerized by the Portuguese style.
Day 17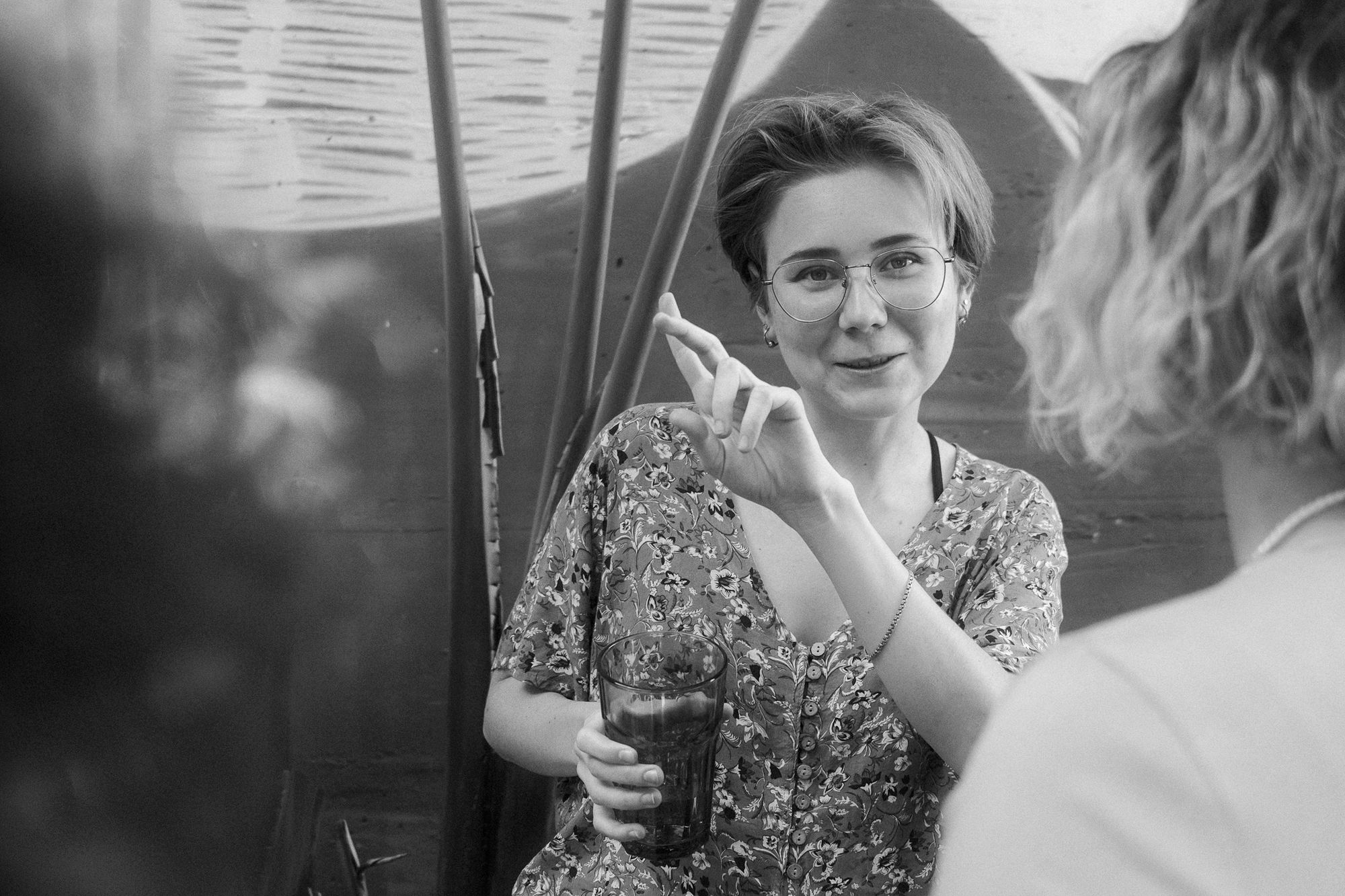 I find it very easy to get all swamped up in work. I believe it doesn't take a lot of mental power to get busy and stay busy. What I find that it DOES take mental power is to be able to relax when you're on a tight schedule. "I don't have time for this" is the easiest excuse for when I'm stressed out and can only think about getting my stuff done.
However, breaks are important too. Being able to just stop for 10 minutes, take a deep breath, talk to someone new, stand up, and walk around, all these bring benefits that aren't immediately visible, but can take me through this marathon called life.
This photo is from today's Nomadic Coffee break at Selina, where people that either don't really have something to do, or those who DO have a lot of things to do (like me) can just stop for 10 or 15 minutes and have a lemonade, get some vitamin D, a coffee and a nice chat with a colleague.
Day 18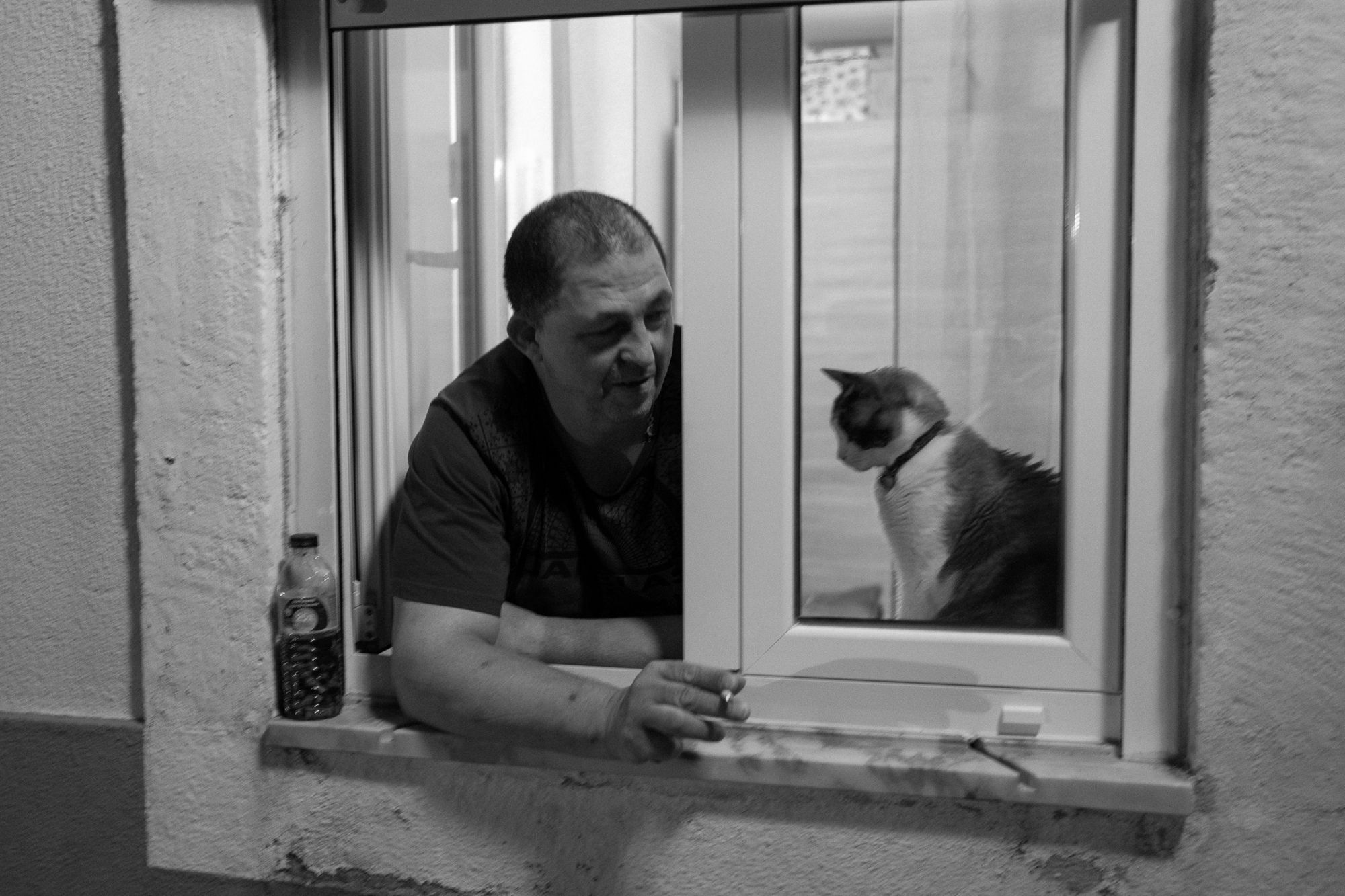 It was half past nine, already dark in Lisbon, and I was walking downhill from the forró dance class that we attended for the first time here. I saw this huge man in the window, smoking, with a cat by his side, and I immediately thought "This would make a great picture of the day". So I went to the man and asked politely (in my very basic Portuguese) if I could take a picture of them.
It isn't the best picture I took today from a technical perspective, as it's shaken and was not looking very pretty when I got it out of the camera. Nevertheless, it felt like an original moment that I wanted to make it today's photo.
Because I believe an authentic life is filled with original moments, not staged nor simulated.
Be true to yourself!
Day 19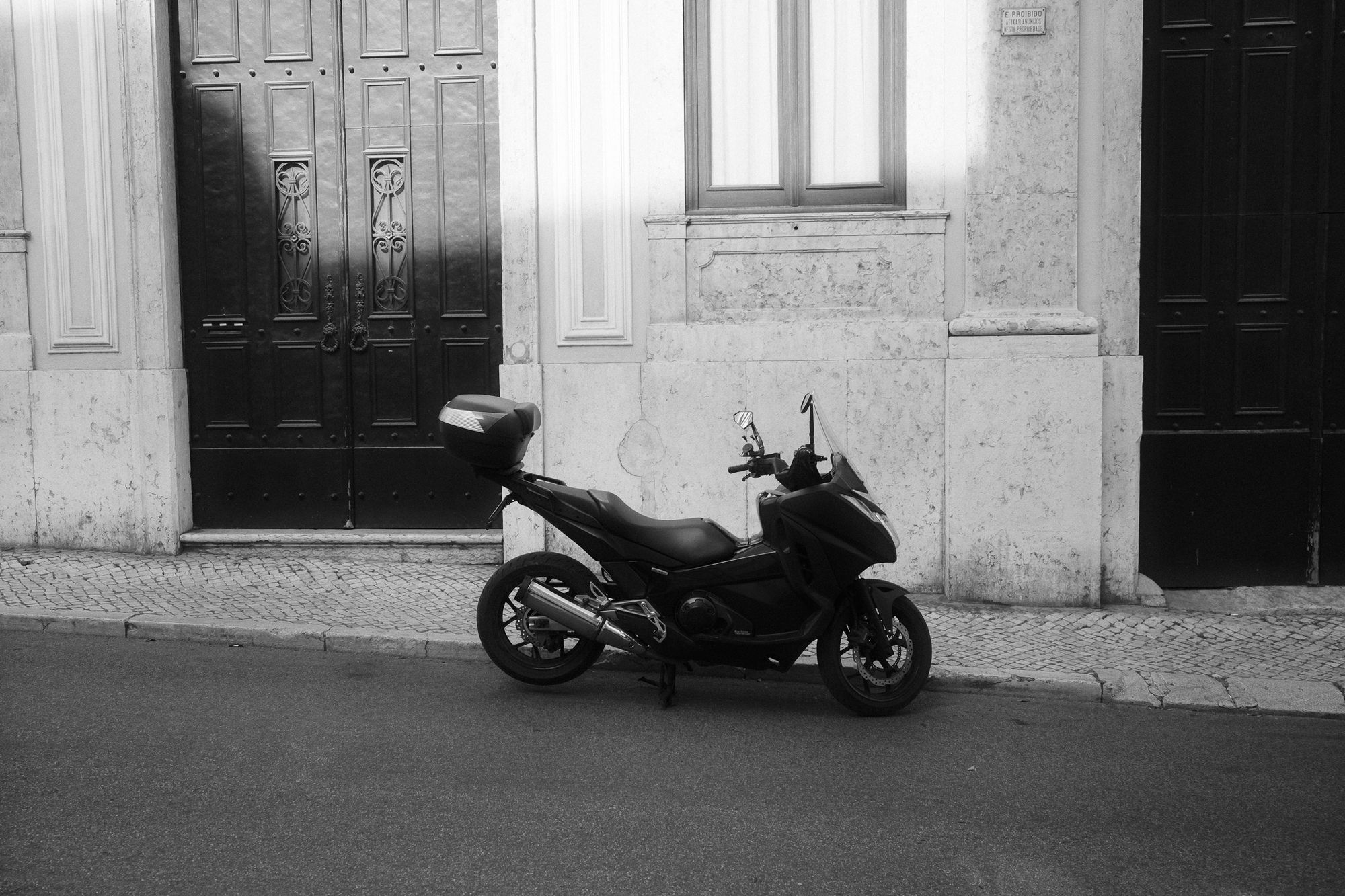 This picture could easily have been from 100 years ago… except for the motorcycle. There is a specific beauty in architecture making it the opposite of portrait photography.
It has a sense of timeless.
If you look at a picture of a building, you'd probably have no clue when was the picture taken, unless there are other elements in the photo that bring more day-to-day details.
Photography is not that old. The very first photo was taken in 1826.
Traditional building photos can date as far back as to when photography started.
For me, as architecture photography is timeless and lifeless, portrait photography is a specific moment in time that will never come back.
It's life, emotion, dreams and hopes.
And, sometimes, it's sadness and despair.
I don't know why I am so attracted to portrait photography, but I do respect and admire architecture photography.
I've met Minh last year. I completely admire and respect his work, especially since he is the only person I know that managed to combine architecture and portrait, humanity in a way that I've never seen before.
Check out @thismintymoment to understand what I mean.
He has a magical eye for curves, lines and structures, but he also adds in the human component of life. Truly amazing!
So remember, be human!
Day 20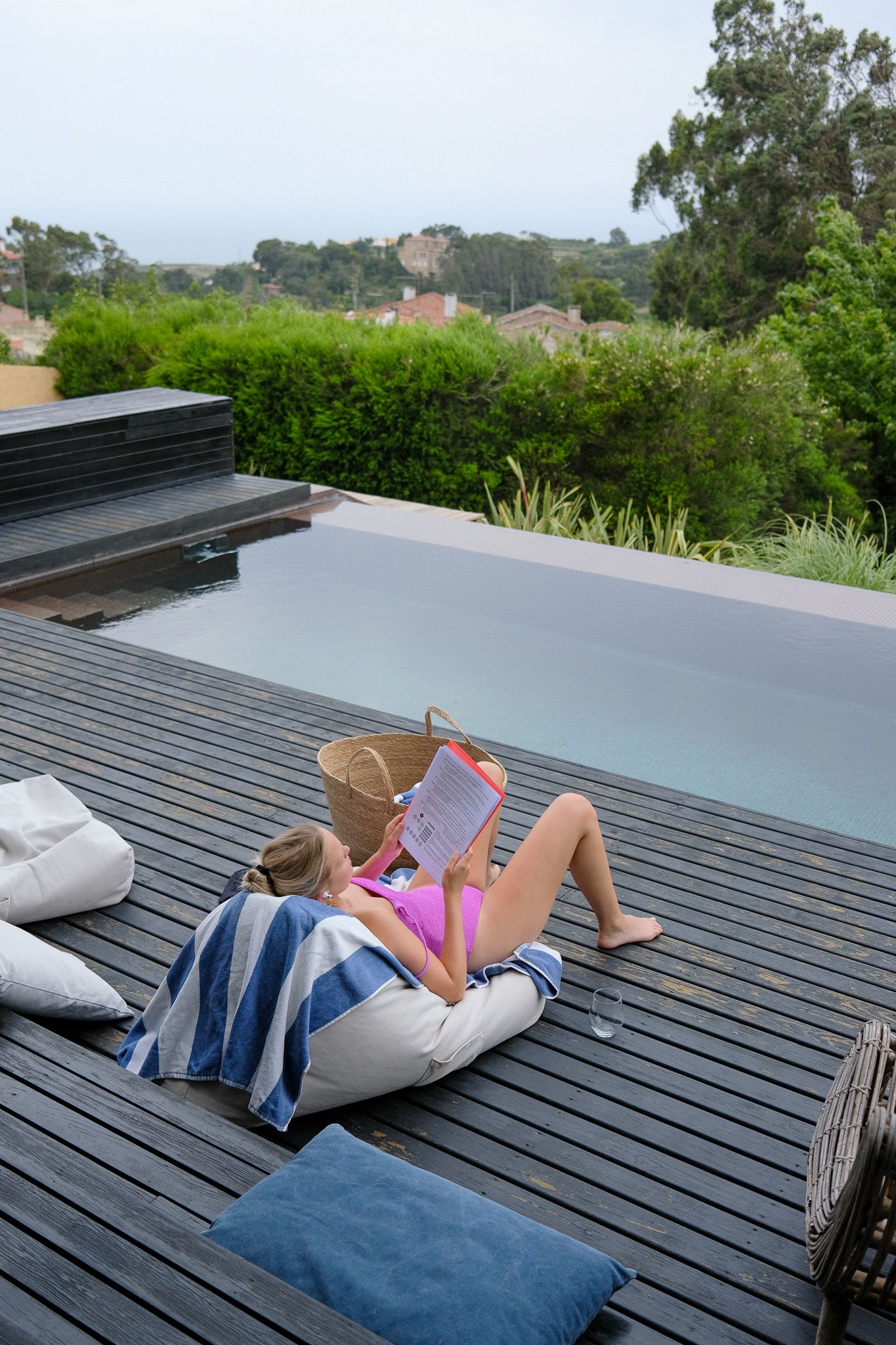 Today's highlight was coming to this amazing co-working place 30 minutes away from Lisbon, in a wonderful environment surrounded by nature, close to the ocean and filled with amazing people.
It's called Yayem and I would totally commute 1 hour each day to come and work from here.
It has a heated pool, gym, bouldering wall, table football, kitchen, massage, amazing garden, and, of course, work desks.
I'm only here for this day, but even so, I'm grateful to just imagine how working daily from here would be.
Day 21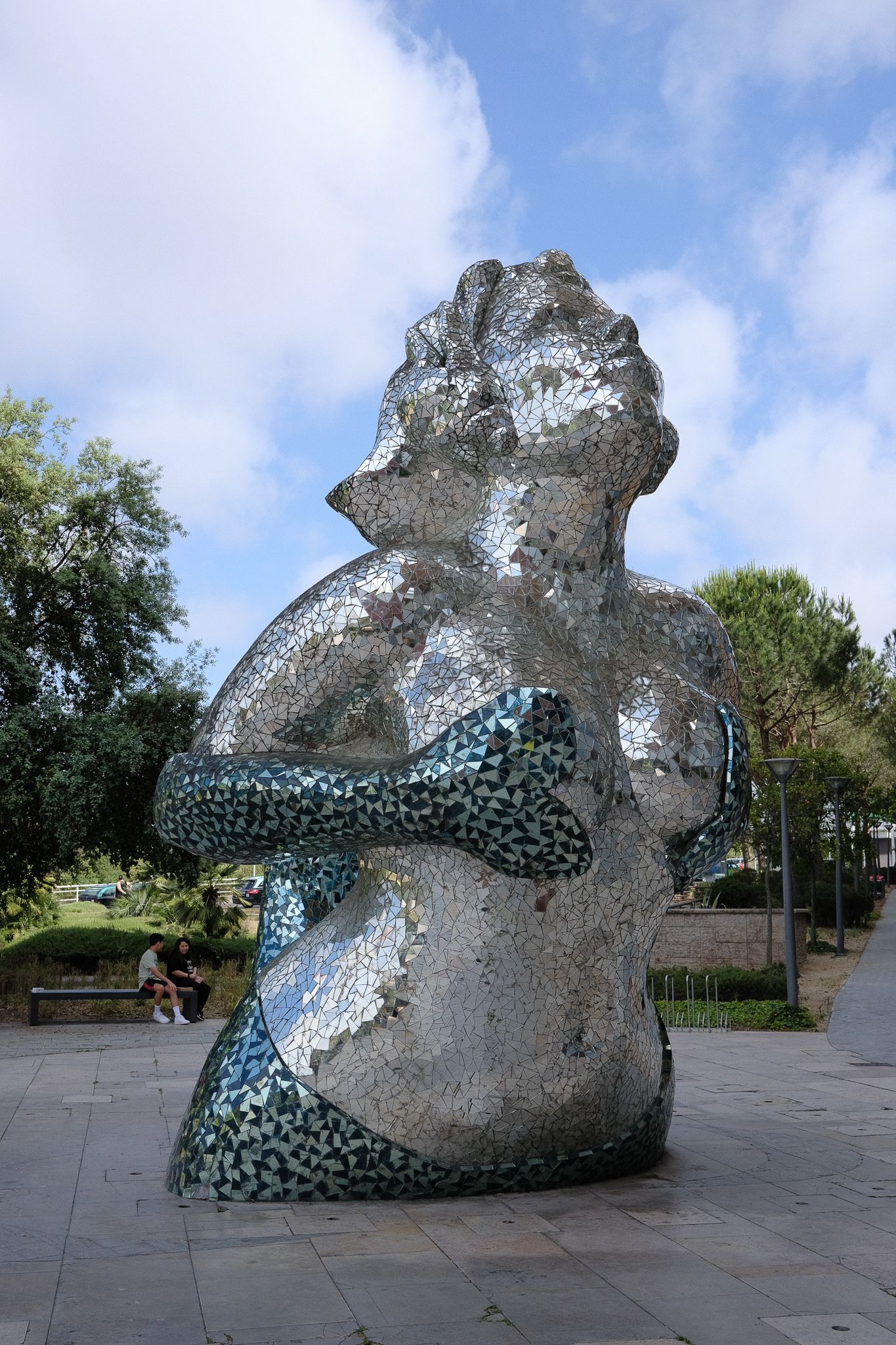 I don't think this is a statue, but it was worth photographing. I think I would call it a glass statue, and it's at one of the entrances of Almada Forum, a nice shopping mall that has pretty much everything we need for the day-to-day living.
Day 22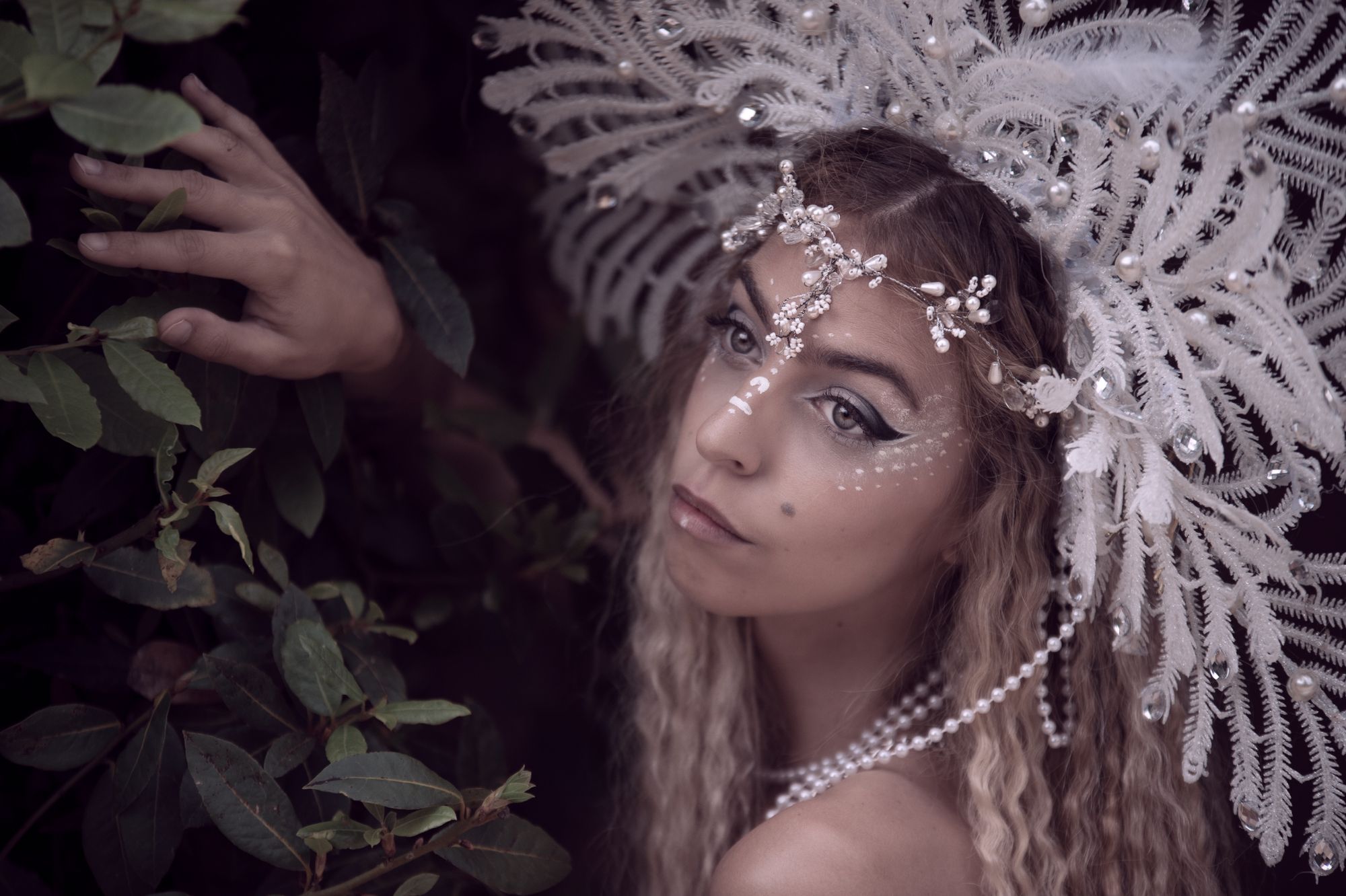 Another photoshoot organized by Ana Luar happened today, this one was called Ethereal, and it was about mystery and drama.
I shot more than 700 photos, many of them quite good!
I feel like I'm starting to improve my technique with every event that I participate in. And that's thanks to Ana, who organizes them, to the beautiful and professional models, the magnificent dresses and, last but not least, the superb makeup artists that make the models look out of this world.
There are many amazing photo-shooting locations around Lisbon, it is truly a beautiful place to be a photographer in. I'm very excited to do more photo-shoots in beautiful gardens, with magnificent people.
This photo has been shot with my Nikon D4s & Sigma 70-200 lens, at 200mm, f/2.8, 1/1250sec, ISO 640.
Day 23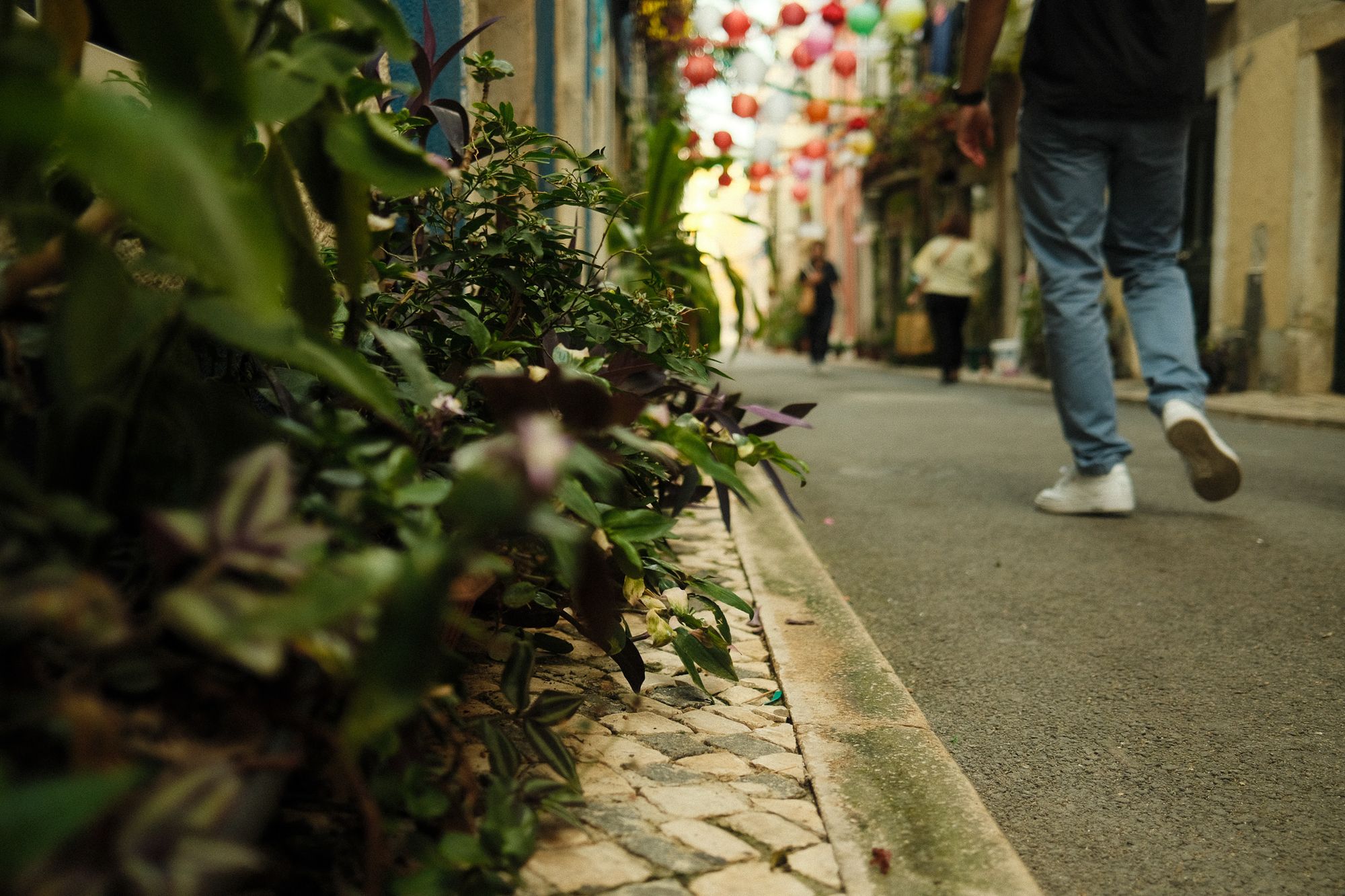 The simplest hack for a better life…
Is walking. If you're sad, stressed, overwhelmed, lost, overly-pensive, blocked or just have something on your mind… go for a walk. If you need to make an important decision, go for a walk. It's going to do you good.
But don't take it from me, take it from Holly Schiff, Psy.D., licensed clinical psychologist based in New York and Connecticut: "Walking encourages our brain to release endorphins, a neurotransmitter that boosts our mental health."
It improves your cognitive functions, it improves your memory, it improves you health, and it's been studied and proven.
So take if from the professionals… go for a walk!
For a good decade, I lived in a place from where anything was one car ride away. That means not a lot of walking.
Now I live in a place where a car is useless and almost everything is within walking distance.
And I feel it.
I love life!
I love sunshine, the birds chirping, the cars driving by, the old and rugged buildings, even the grumpy people that pass by.
And it's partially from a lot of walking.
Every. Single. Day.
This photo is form my walk home from the co-working place, on a nice small street that is filled with plants on both sides.
And people.
Walking by.
Are you walking enough?
Day 24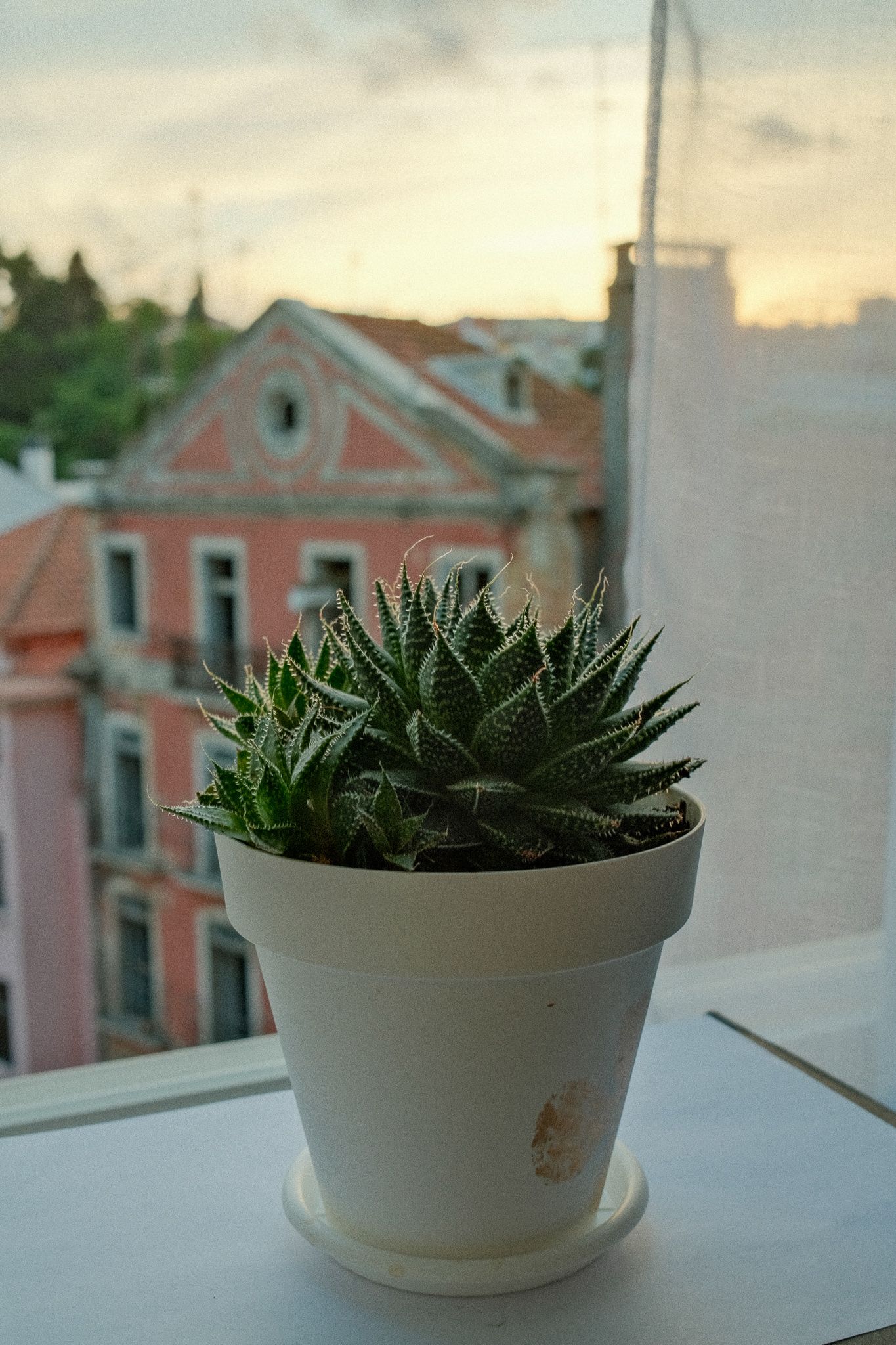 The sunset and the cactus.
I like both sunsets and cactuses, so I tried combining them into one photo, and this is what came out. I know, it's a special kind of cactus, and… well… it's a normal kind of sunset.
It's funny how we, as humans, built these houses where we're spending a considerable amount of time, but yet we bring plants into our home, to make it… nice and cozy?
My favorite houseplant is a cactus. It doesn't need too much caring, and if you forget to water it, well, that's actually a good thing for them. On a nice trip to Boca do Inferno we stumbled upon a plant shop, and I finally found a cactus that's not THAT ugly. So here it is.
Regarding sunset, besides the mesmerizing colors and the almost-visible sun going down under the horizon, I particularly like one more thing.
The fact that no matter what, tomorrow morning the sun will rise again. And again. Every evening it goes down leaving us into darkness, and every morning it's back up to say "good morning". You and I might not be here tomorrow, or some other 'morrow, but the sun will.
So, for me, it falls into the category of certainty. And in times of massive changes, a bit of certainty is… comforting.
Day 25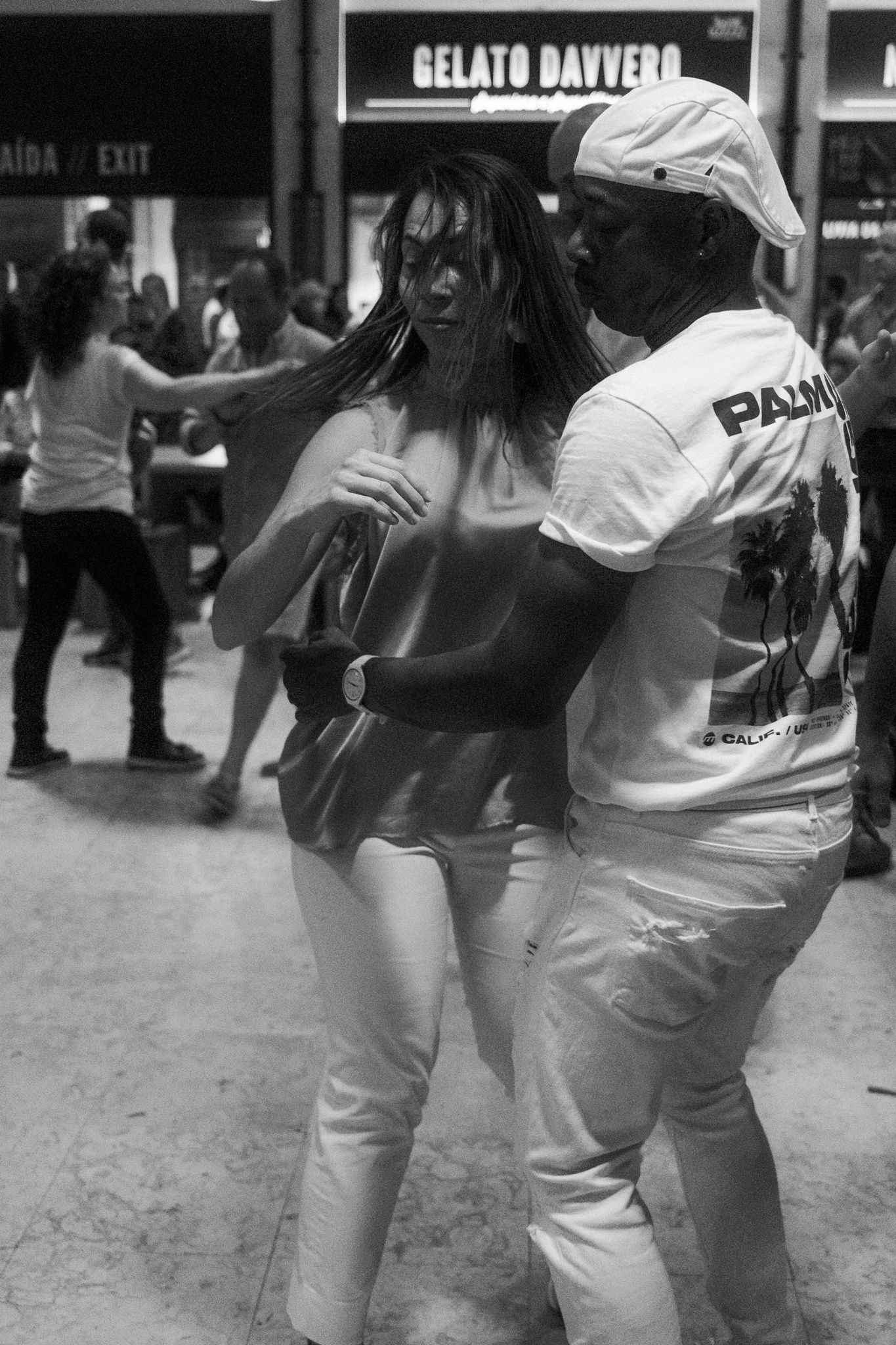 I shot 56 photos today.
Various subjects.
A very beautifully painted wall, two friends sitting by the Tagus river, sunset over the Portvgalia restaurant, violet-blue blossomed trees and some others.
But this is what I chose for the photo of the day.
Because it expresses movement, life, people and the combination of that which is…
Dancing.
I think we all need a bit more of that in our lives.
A bit more life. A bit more movement. A bit more… dancing.
Because we're human!
One of the three main goals I have this year is learning the brazilian dance called Forró. I try to keep practicing and dancing. Sometimes I do, and sometimes I don't. And again, when I don't, I feel dissapointed in myself.
And then I remind myself that we're, again, human.
Sometimes we manage ourselves better than other times.
Do you need a bit more dancing in your life?
Day 26
Almost there! Photo number 26 showcases two of my very good friends in Lisbon, @vesoto and @tasteandnourish, in a wonderful display of humanly expression and exuberance.
Already concluded and agreed with other people, and myself, one of the top three qualities that makes living in Lisbon so amazing is meeting interesting, creative, humble, open-minded, fun people.
And that's a very big plus on my list, because we're social beings, and we thrive with other human beings around us.
I think it takes courage to go ahead and have fun, smile and enjoy life, considering all the hardships that are coming your way, almost every day.
It takes courage to live your life to the fullest and not succumb to comfort and ease.
And I appreciate both the people that take on a life of adventure, and those who thrive when they feel settled in their own crib, with their own small circle of friends.
I think a simple life is just as valuable as an adventurous life.
There is no wrong way to live as long as you're true to yourself.
Are you living the life you desire?
Day 27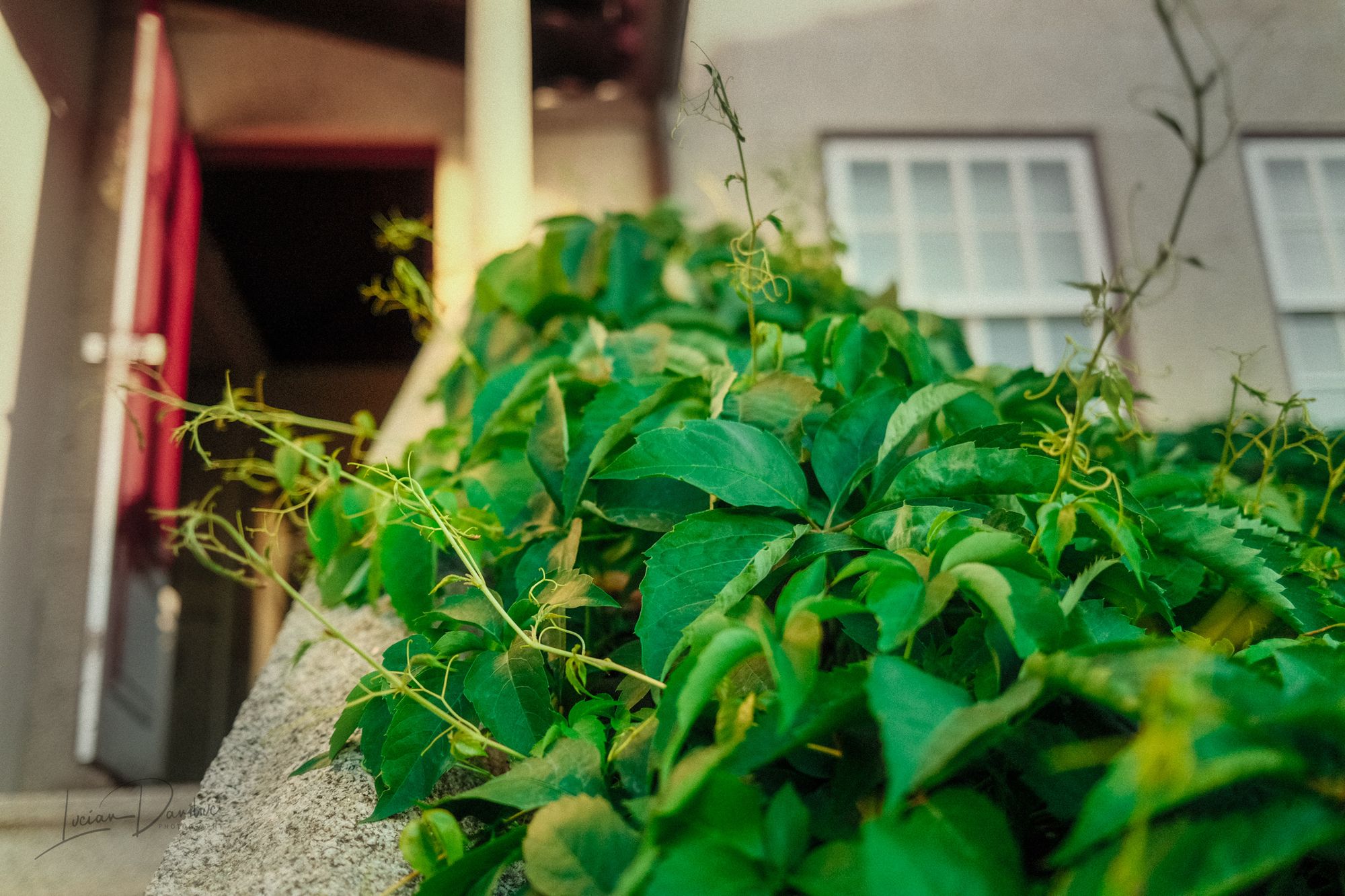 Every door has stories to tell.
Walking through a door feels normal and usually mondain. I think we've all walked through many doors throughout our lives, starting from school doors and ending with whatever door you walked through today. It's a normal activity for most of us.
But you can only walk through a door for the first time, well, once!
That sparkling curiosity that turns on your brain only happens the first time you go through any specific door. All the other times, you're just going somewhere, looking for someone or something.
I believe doing something for the first time has it's charm. Because first time is only once.
And I can tell many interesting and adventurous stories that happened after I walked through a door. Walking through a door is an invitation for a new experience.
To meet someone new.
To do something new.
To have a new experience.
To grow.
In this particular photo, there was a nice set of stairs that led to the red reception door of Quinta de S. Sebastiao. I've never walked through it before today, and I am curious as to what novelty is that going to bring to my life.
Next time you're going through a door for the first time, try to remember to take a moment and sparkle your curiosity, you might be surprised with what you discover!
How many times did your life changed, a little or more, after you went through a door?
Day 28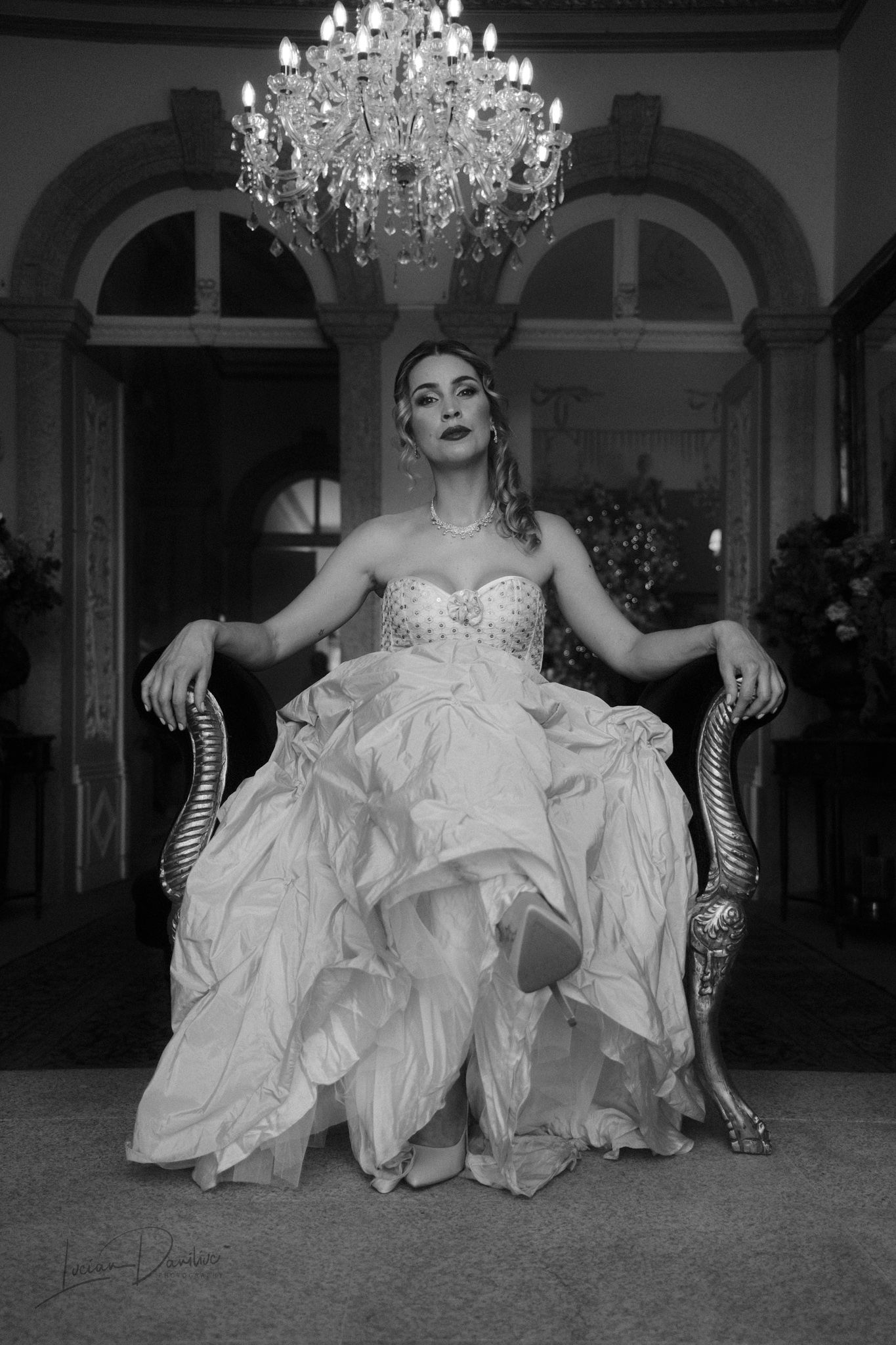 Do the clothes make the… woman?
There's a proverb going around: "Clothes make the man"
Some people swear by this in opposite manners: Those who dress as simple and basic as possible to disprove that "clothes make the man", and the others which dress up for the proper occasion, because, again, "clothes make the man".
In my opinion, they're both right. Blindly believing in one or the other (and not both) means missing out on what life has to offer.
And I believe this because:
There are actually two meanings to this saying; simply put it means that people are judged based on the clothing that they wear and are treated accordingly. On a deeper level this phrase can be understood to mean that by dressing in a certain manner you can actually shape your behavior and affect the way you perform.
Long story short, my take on this is that dressing up can be a form of expression, can provide a sense of belonging, and can make you feel in certain way.
Of course, we could all walk around naked, because we have nothing to hide, and clothes don't make the man, but then again wouldn't that make life pale in terms of contrast, color, expression and diversity?
Personally, I think it's a just a matter of the motivation behind it… and that whatever enriches your soul and your life without hurting others, can't possibly be demeaning or wrong.
Be yourself, everyone else is already taken!
This photo was JPEG straight out of my Fujifilm X100V, in a magnificent photography event organized by NW Photo Events in Casa do Egipto.
There will be more from this event coming up in the following weeks.
Credits:
Organizer: NW Photos Events
Evento Vestidos de Sonho
Photograph by: Lucian Daniliuc
Model: Sílvia Mariana Silva
Makeup: Nádia Cleide
Hairstyle: Angel Charme Cabeleireiros
Production: Sergio Pinto
Thanks to Quinta de São Sebastião Hotel Rural, Cantinho dos Salgados, Local Casa do Egipto
Day 29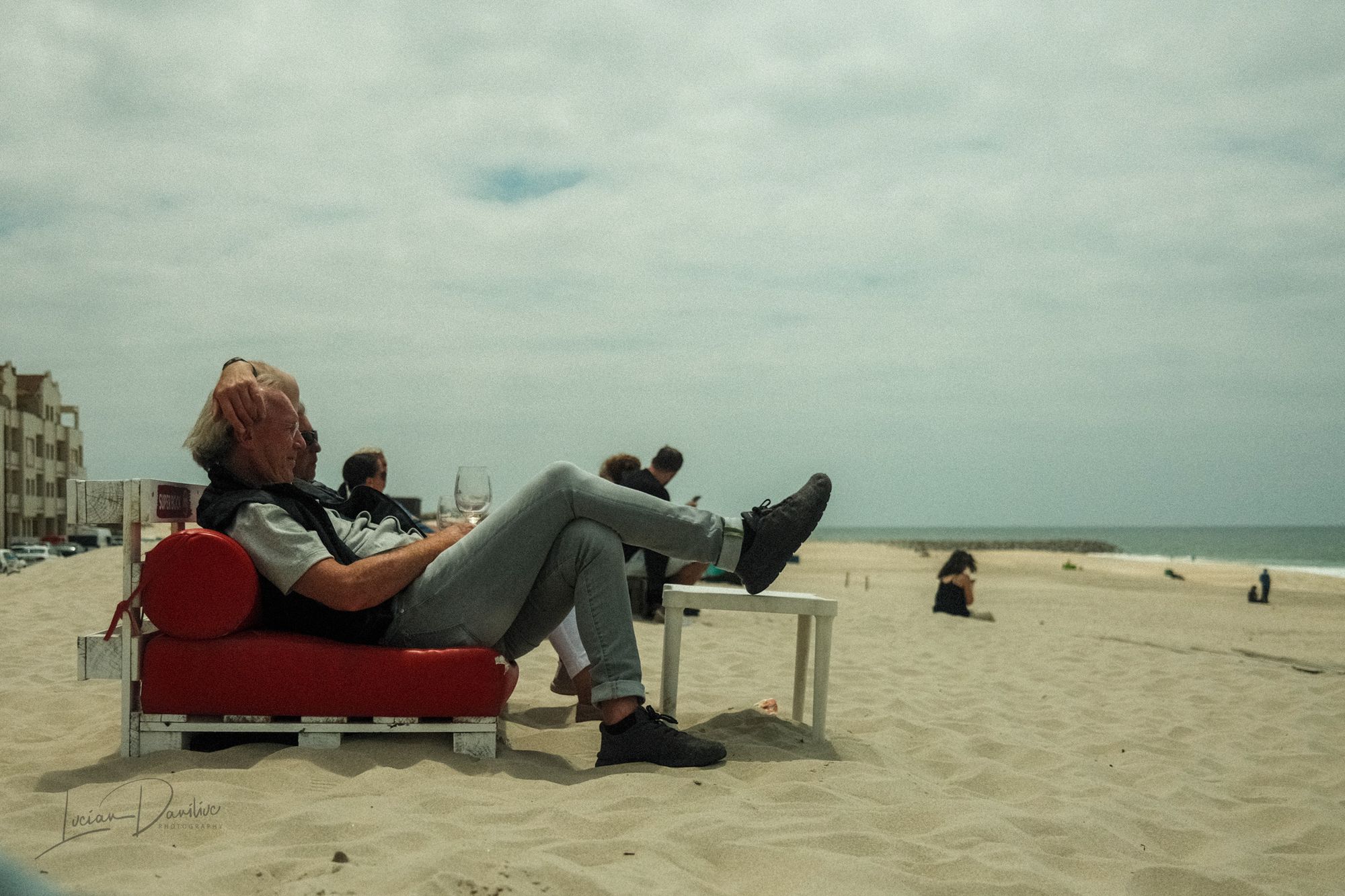 This I how I envision myself when I'll be old.
Not sure how old, but if I can sip some good white wine on the beach, watching the waves crash into the shore, I'll be sure I made it.
I also want to apologize for calling people in their 40s old, back when I was just a teenager.
It seems that year by year, I tend to value less what I own and value more who I am, what I am and how I am.
Not sure if I'm going egocentric, but there's more to life than objects and possessions.
After I shot this photo, I took a nap on the beach, which felt so right, it completely recharged my energy for the other half of the drive from Braga to Lisbon. Absolutely priceless!
How do you envision yourself when you'll be old? What do YOU value?
Day 30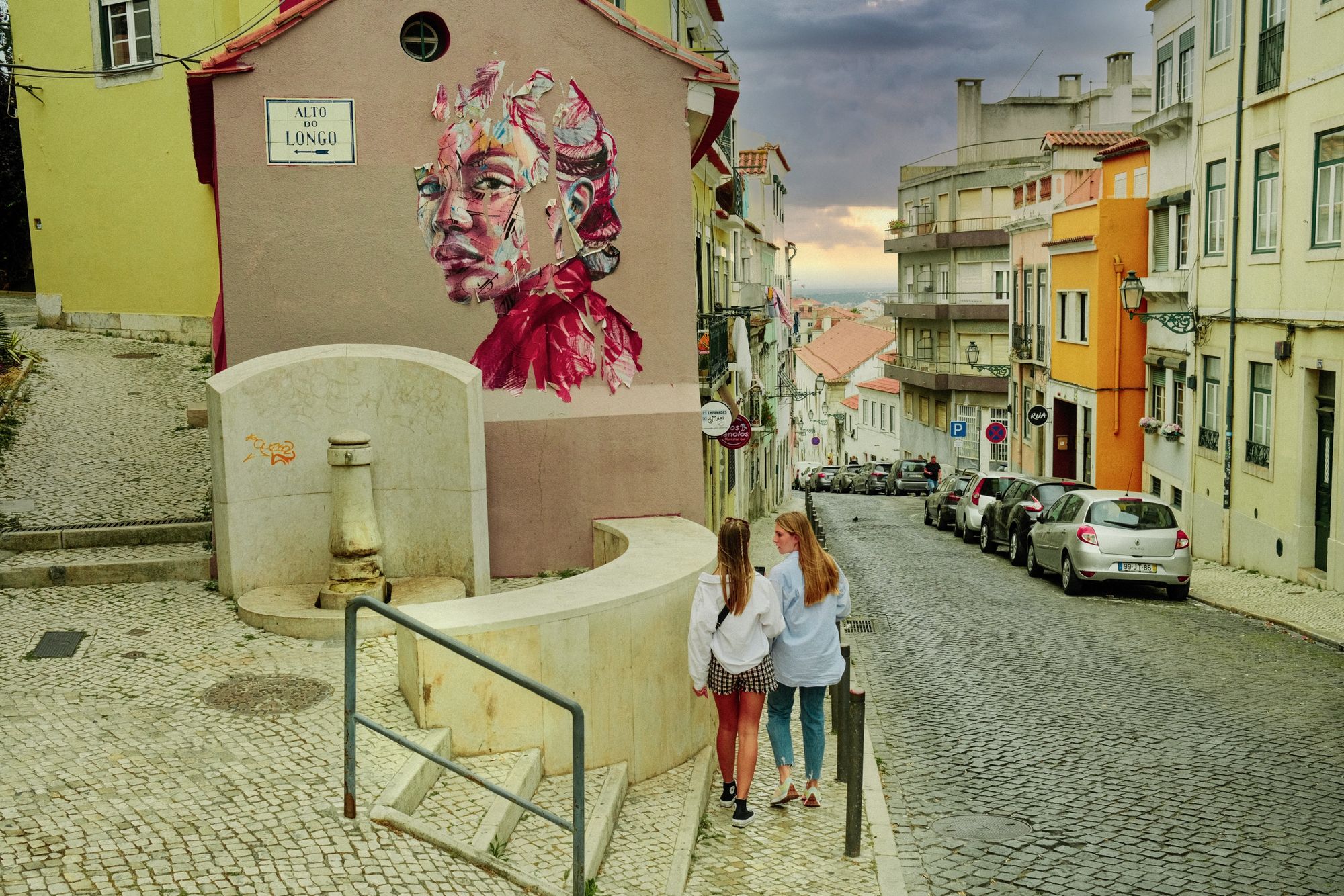 The day has come. 30 days of going out, shooting photos and posting one of them. And I've experienced yet another proof that it's not the destination that matters, but the journey.
The journey of going through this challenge made me a better version of myself, not necessarily because I know more techniques of shooting photos, but because I pushed myself to go above and beyond, to meet new people, to ask them if I can take their picture, to get out of the house every single day, to keep an eye open for photogenic scenes, to be curious, to walk through new doors, and last, but not least, to open my soul writing a backstory for each of the photos.
I want to thank your for joining me in the 30-day challenge. I can only recommend you do the same, a 30-day challenge of whatever lights you up: cooking, nitting, drawing, writing, photographing, learning something new or just going the extra mile in one aspect in your life.
Consistency is the key to building healthy habits, to grow and to really live.
Looking back at the pictures, if I had wanted to take 30 pictures in one day, even if someone paid me or dared me, it would have been impossible for me to capture such a wide pallete of places, people, emotions and stories. But in 30 days, I did!
Consistency!
I shot this photo while going on a walk around Principe Real in Lisbon, trying to clear my head and answer one not-so-simple question: "What does it mean, for me, to be extraordinary?". We can go over this over a cup of coffee if you're up to, but during my walk, I noticed the red lady painted on the wall and thought "this would be a good ending to my 30-day photo challenge".
So, thank you, and I have only one wish for you:
Be extraordinary! Whatever that means for you.